Visiting Jack Daniel's with Fairmont Hotels
In November 2015 Fairmont Hotels did a global relaunch of their cocktail program called Classics. Perfected. The menus were curated by 5 of Fairmont's top talents or "Tastemakers."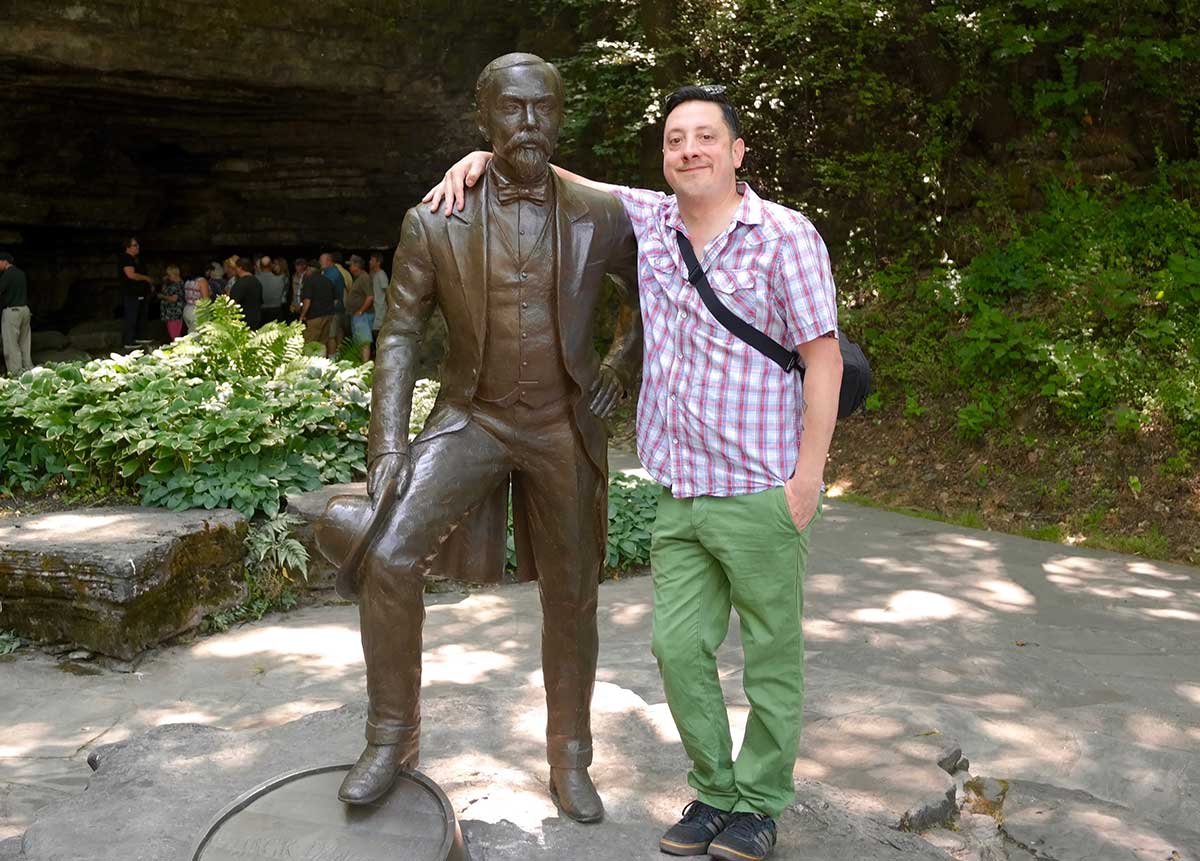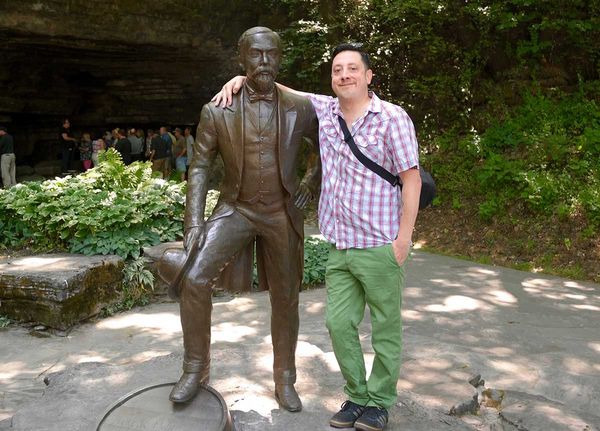 Whether you realize it or not, you've heard of a Fairmont Hotels property. The Plaza in New York? The American Bar at the Savoy? Iconic places that evoke a sense of luxury and class. Hotel bars you'd visit when you're not even staying at the hotel.
In November 2015 Fairmont Hotels did a global relaunch of their cocktail program called Classics. Perfected. The menus were curated by 5 of Fairmont's top talents or "Tastemakers." In April, Fairmont and Brown-Forman (Old Forester, Woodford Reserve, Jack Daniel's) launched a Bourbon Bout to see which Fairmont bartenders could make the best bourbon and whiskey cocktail. Winning bartenders Jean-félix Desfossés and Melissa Logie joined Fairmont Tastemakers Grant Sceney and Nader Chabaane on a specially curated bourbon belt experience in May. The experience was designed to inspire Fairmont's bartenders while they learned about Woodford Reserve in Kentucky and Gentleman Jack in Tennessee. Myself and five other journalists joined the group for the Tennessee leg of the trip.
---
JACK DANIEL'S DISTILLERY TOUR
---
We began our day with an all-access tour of the Jack Daniel's Distillery led by Jesse James. (I'm told this is a more common name than you might expect.)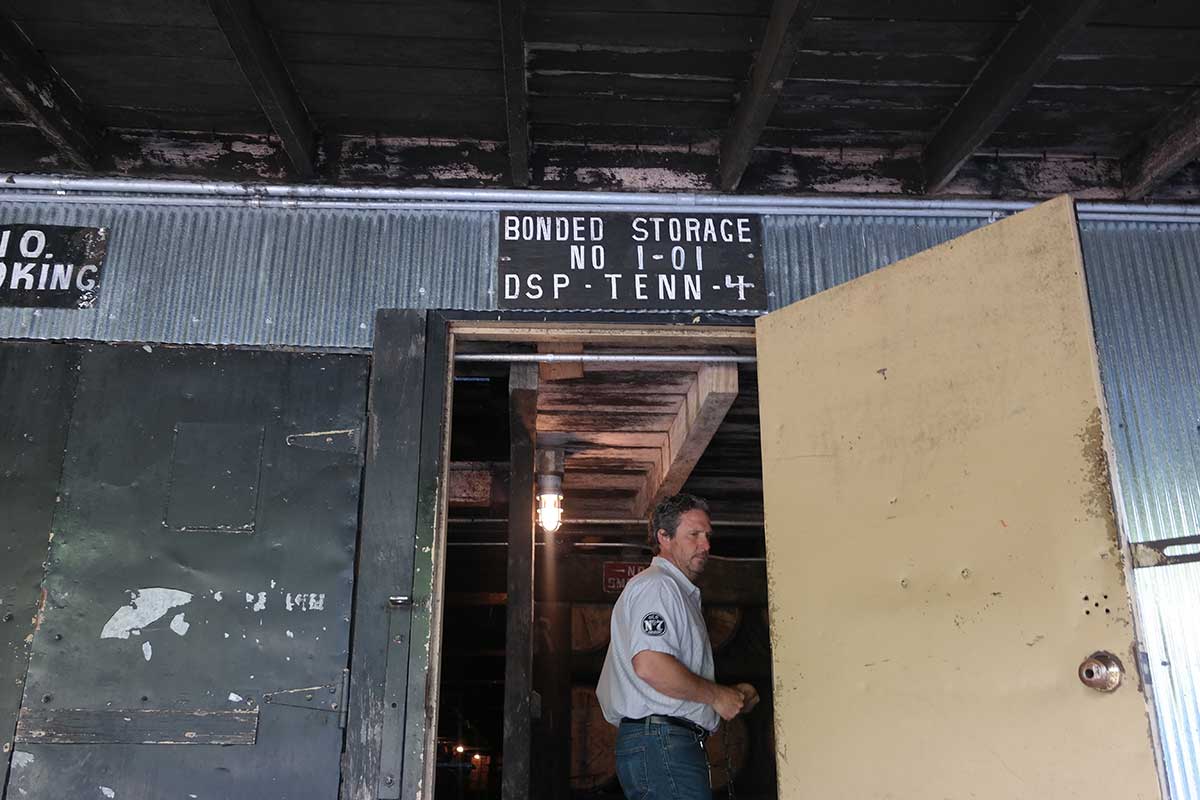 All of the whiskey made at the distillery uses water from an onsite spring in a cave known as Jack Daniel's Hollow.
The mashbill for all Jack Daniel's products (except one) is 80% corn, 8% rye and 12% malted barley. All of these whiskeys could be called bourbon if they wanted to be. There is nothing in the process that prevents them from being called bourbon. They choose to call their product Tennessee whiskey. Jack Daniel's uses the Lincoln County process of charcoal filtering, which they call "mellowing." All of their whiskey is slowly dripped and filtered through 10 feet of charcoal before entering the barrel to mature.

When you make the best-selling whiskey in the world and all your whiskey is charcoal filtered, you're going to need a lot of charcoal. So you make your own.
The distillery grounds are large with 87 barrelhouses with between 20k and 60k barrels in each. The barrelhouses are spread over approximately 2000 acres. This spacing is important because if one warehouse should catch fire, you definitely do not want it spreading to another. This is also why Jack Daniel's has a state-of-the-art fire department that is better equipped than some major cities.
---
JACK DANIEL'S TASTING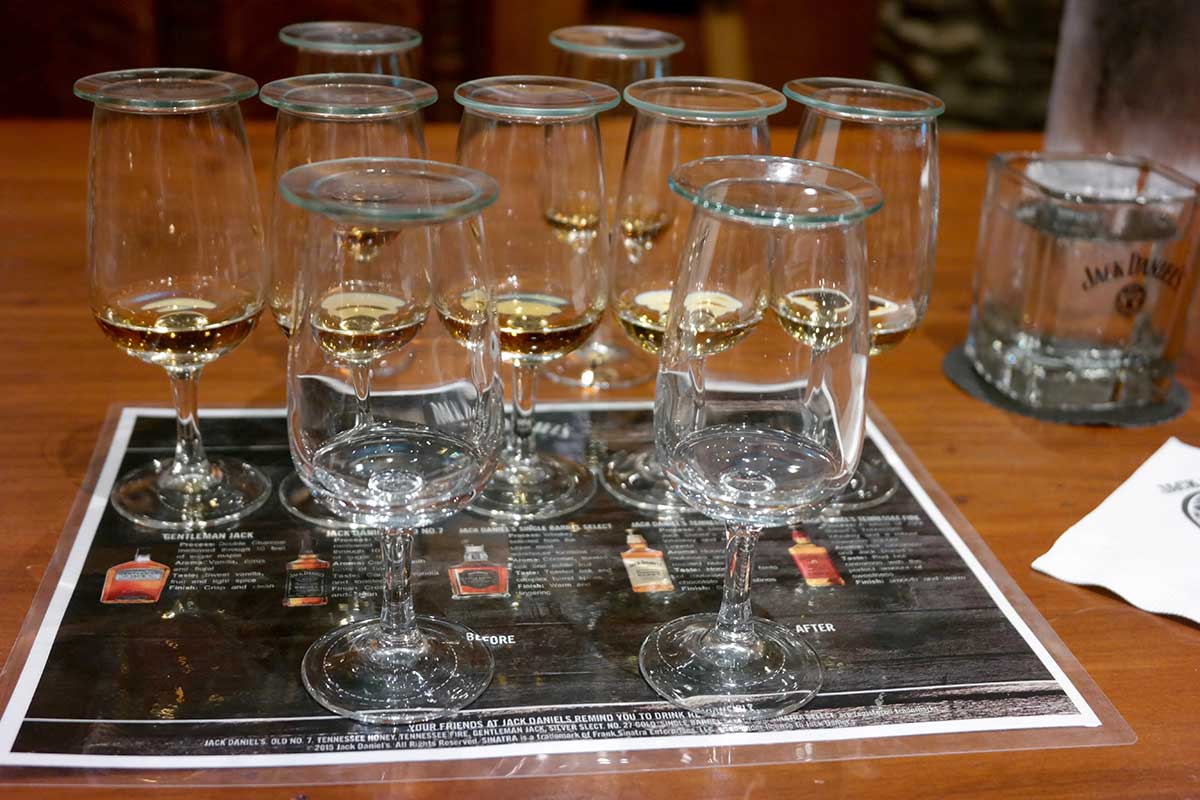 After the tour, Mr. James led us through a tasting of the entire Jack Daniel's line. We first tasted the raw distillate before and after mellowing. The difference is striking. So much of that unaged alcohol burn is smoothed away by the charcoal and you're left with the sweet grains.
Gentleman Jack differs from other products in their portfolio in that after aging, it is filtered through an additional 3 feet of charcoal. This produces a lighter whiskey, which is a bit too light for my personal tastes.
Can I assume you're familiar with the black labeled Jack Daniel's Old No. 7? If you're in the United States, they have it at your corner bar. If not, you might have to go another block.
The Single Barrel Select comes from the top floors of their barrelhouses and thus boasts more oak, vanilla and caramel flavor from the extra wood contact.
We tried the Tennessee Fire and the Tennessee Honey. As we always seem to say about flavored whiskeys around here, "I don't much care for flavored whiskeys" but I can say that the cinnamon in the Fire didn't taste like chemicals. The Honey was predictably sweet, but I could see using it in cocktails.
The most exciting products to me were their two newest releases: Single Barrel Barrel Strength and Single Barrel Rye. If I had my druthers, all whiskeys would release a barrel strength version. The rye is 70% rye, 18% corn and 12% malted barley and would definitely appeal to folks who like rye, but are not fans of Tennessee whiskey.
After the tasting we all had lunch with Assistant Master Distiller Chris Fletcher at Miss Mary Bobo's Boarding House in Lynchburg. If you are visiting Jack Daniel's you must eat lunch here. Make reservations in advance because they are very busy and only do a couple lunch seatings per day. Also, maybe fast for a week before going because there is so very much great Southern food. I still dream of that fried okra…
---
COCKTAIL IDEATION SESSION
---
The day culminated in an "cocktail ideation session" which is PR speak for "making up cocktails with rad bartenders." This was actually the first time cocktails were made at the distillery in dry Moore County, Tennessee.
I teamed with Melissa Logie and had a blast. She had me make her Bourbon Bout winning cocktail:
MAPLE NUT BOURBON SOUR
CREATED BY: MELISSA LOGIE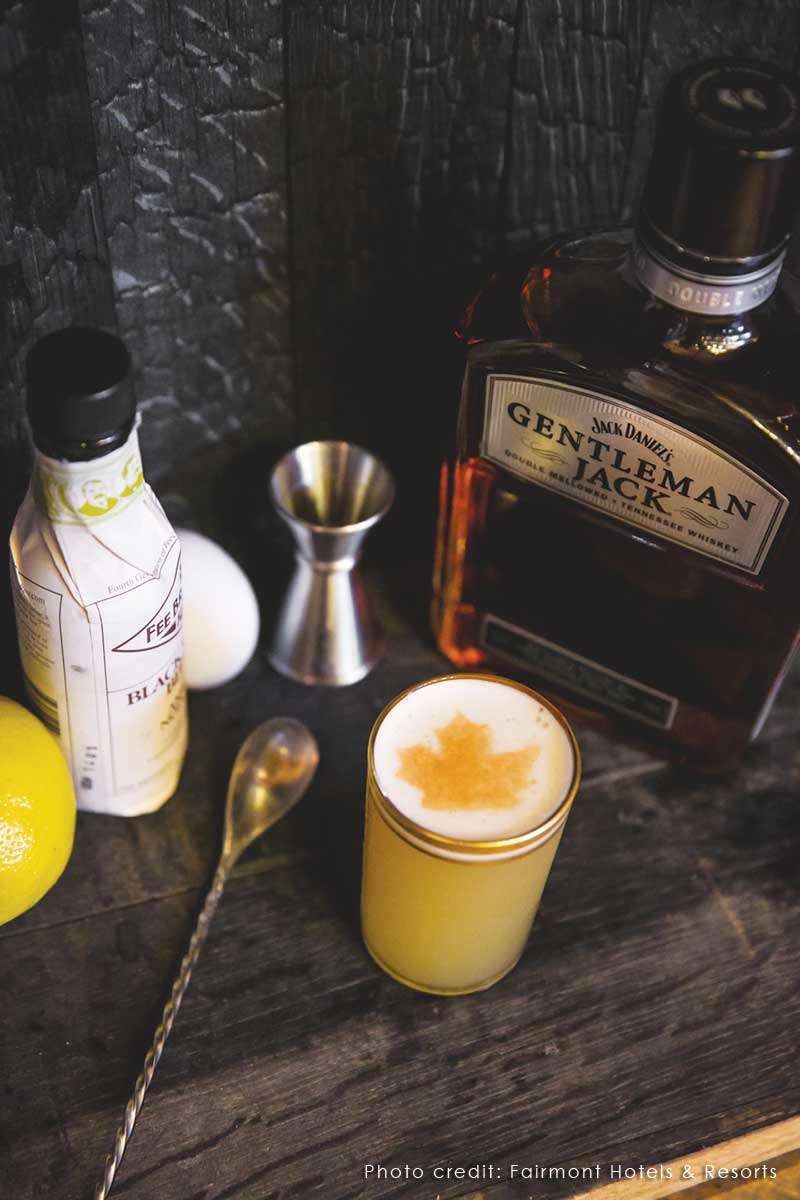 INGREDIENTS
---
1½ oz Gentlemen Jack
½ oz fresh lemon juice
¼ oz fresh lime juice
½ oz pure maple syrup
¾ oz egg whites
2 dashes Fee Brothers Black Walnut Bitters
DIRECTIONS
---
Shake all ingredients together without ice to foam the egg whites and then again with ice to chill. Strain into a old fashioned glass and garnish with bitters.
We also made a cobbler, because it was hot in Lynchburg.
SPICED APPLE COBBLER
CREATED BY: MELISSA LOGIE & THOMAS FONDANO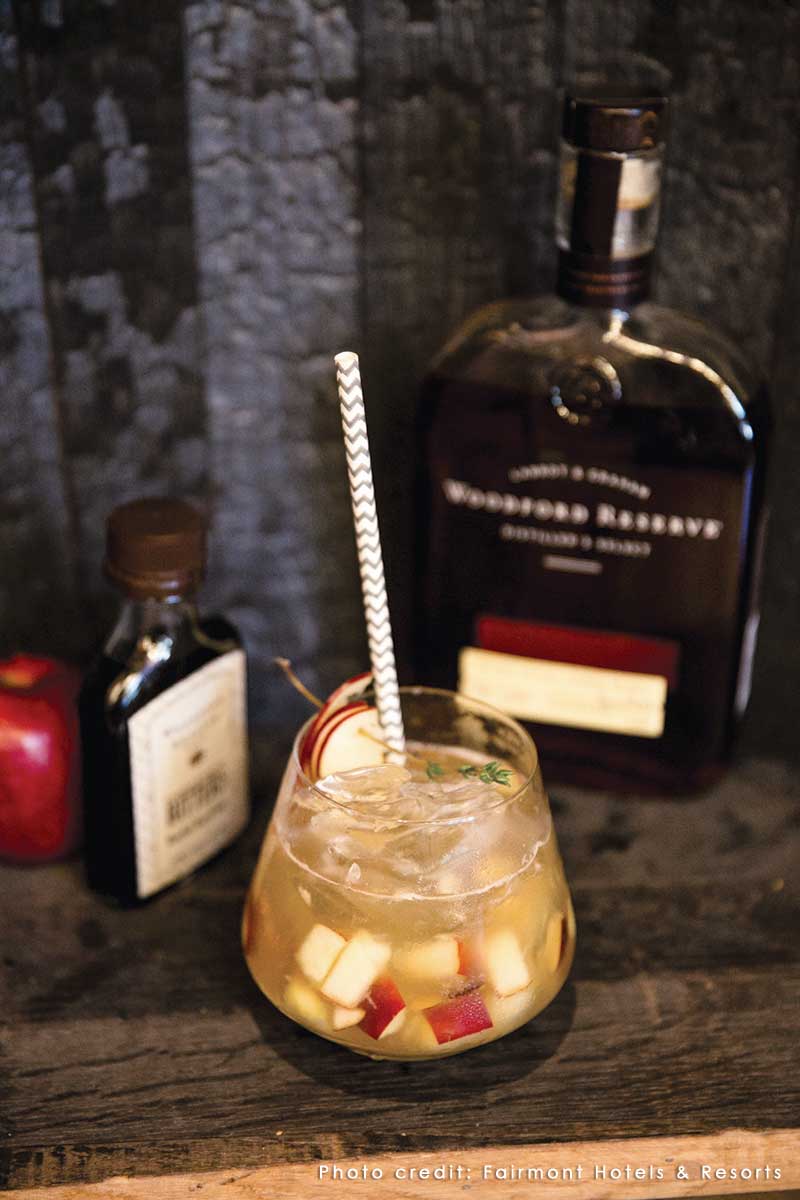 INGREDIENTS
---
1½ oz Woodford Reserve
1 oz honey syrup
¾ oz lemon juice
2 dashes Woodford's Sassafras and Sorghum Bitters
½ apple, cubed, plus more for garnish
DIRECTIONS
---
Shake all ingredients with ice and pour into a goblet. Garnish with apple.
Originally, Melissa gave this drink a different name…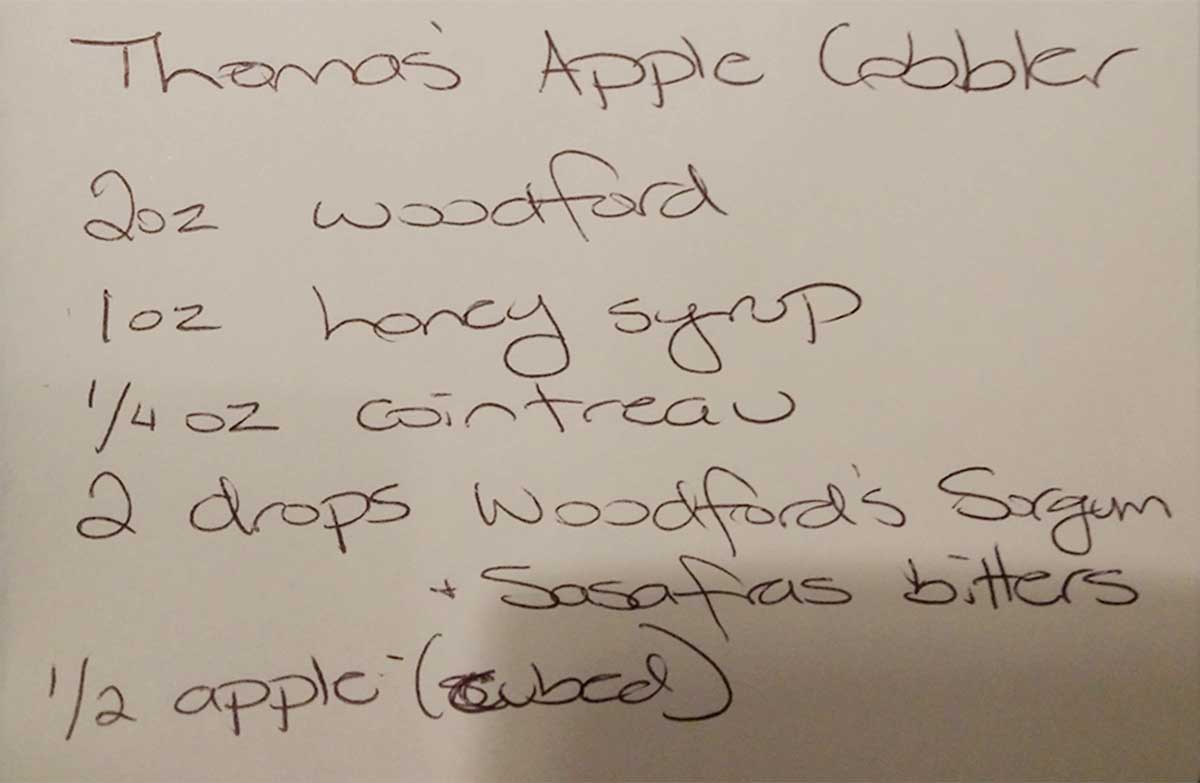 There were a lot of other amazing drinks concocted by the rest of the group and it was a rare treat to be able to collaborate with such talented bartenders. After seeing them work, I would feel confident walking into the bar at any Fairmont Hotel or Resort and ordering a cocktail.
---
Disclaimer: Special thanks to Fairmont Hotels for providing Bourbon & Banter with travel and lodging for this experience. We appreciate their generosity and for allowing us to share our experiences and thoughts with no strings attached.