Waterloo Antique Gin Review
I am Whiskeyfellow. I am not Ginfellow, and despite the fact that, at the time of this review, there are two hilarious videos of me drinking Malort, I am most definitely not Malortfellow. I review whiskey, it is what I know, it is what I enjoy, and it is my niche. However...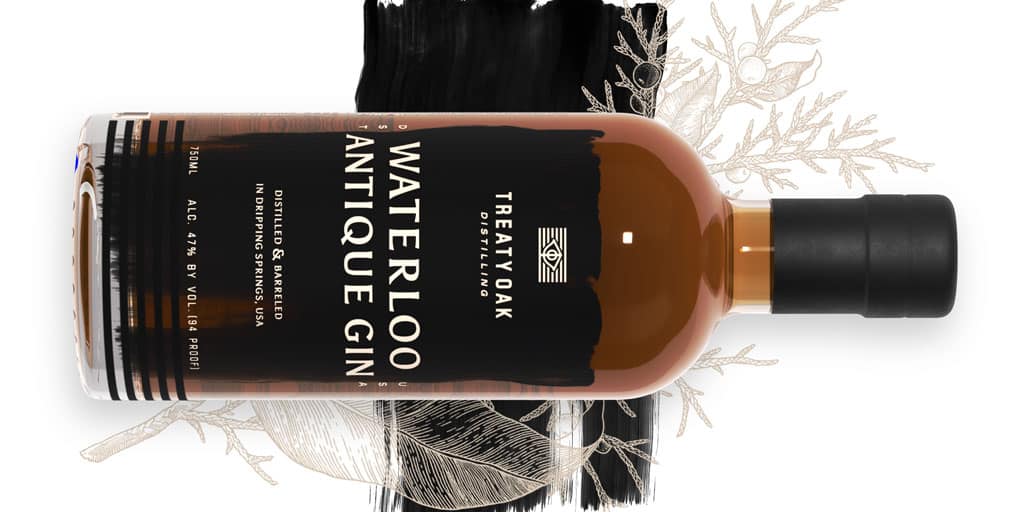 BOTTLE DETAILS
---
JEFF'S NOTES
---
NOSE:  Floral Perfume  |  Honeysuckle  |  Herbal Essence
TASTE:  Vanilla  |  Nutmeg  |  Herbal Essence  |  Mild Spice
FINISH:  Long and lasting. Very herbal and slightly sweet.
SHARE WITH:  People who are scared to drink gin or folks who really love gin. But, not me.
WORTH THE PRICE:  I wouldn't buy this for my home bar, but I'm also not a gin drinker.
BOTTLE, BAR OR BUST:  I'm rating this a Bar, but only because I didn't chew on a Christmas tree and it is honestly different from any other gin I've tried.
OVERALL:  I am Whiskeyfellow. I am not Ginfellow, and despite the fact that, at the time of this review, there are two hilarious videos of me drinking Malort, I am most definitely not Malortfellow. I review whiskey, it is what I know, it is what I enjoy, and it is my niche. However, there's this whole damned #DrinkCurious lifestyle that I've honestly embraced.
Before I even pour Treaty Oak's Waterloo Antique Gin in my glass, I'm going to be perfectly transparent. I don't just dislike gin, I hate it. Gin was my dad's drink. He loved Gibson martinis, straight up, with a hint of vermouth. My hating gin has nothing to do with my father, I'm just saying this because I've been around gin much of my life. I've tried many gins from many distillers and I'm going on record stating that I have never found one that I like. To me, they all taste like grabbing a Christmas tree branch and brushing my teeth with it.
When the folks at Treaty Oak Distilling told me they were including a sample of their Waterloo Antique Gin in a sample package of whiskeys, I told them not to bother. I essentially explained all of the above. I was told they would send it anyway because this would be the gin that would change my mind about gin.
So, I'm back to this #DrinkCurious thing which occasionally gets me in trouble (such as having to drink Malort twice). I am going to give this an honest, impartial attempt. I also have no idea what I'm doing as far as gin reviewing goes, so I'll treat this exactly like I would a whiskey review and use the same process.
I've now poured the Waterloo Antique Gin in my Glencairn glass. While I'm letting it sit, I'll share some background on what makes this gin different from others.  It is aged for two years in new, #3-charred oak barrels "under the hot Texas sun." Treaty Oak claims this is the oldest-aged gin on the market. Not being a gin expert, I'll take that statement at face value.
In my glass, the gin had a very similar appearance to a younger whiskey. It was a lighter amber and, if you handed me the glass, I'd have told you it was whiskey. It left a very thin rim on the wall and created thin, slow legs to drop back to the pool.
The strong floral perfume dominated my nosing experience. I expected to smell juniper and if it was there, it wasn't coming past the flowers. Inhaling through my lips didn't bring any juniper, either. That, also, was sweet flowers, what I would describe as honeysuckle. There was a milder herbal essence beneath the honeysuckle.
The mouthfeel was thin and watery. I picked up vanilla and nutmeg up front which was very nice. But, in the middle was that typical ginny herbal quality that I just didn't enjoy at all. On the back was a mild spice, but it was completely overwhelmed by that damned herbal taste.
The finish was very long and lasted several minutes. And, as I'm not a fan of the herbal quality, it lasted much longer than I wanted. It did eventually taper off from herbal to sweet and was slightly warming as it went down my throat.
Did Waterloo Antique Gin live up to the promise of it would forever change my opinion of gin? It is a different gin from what I've tasted and more mellow than I've had. But, this didn't turn me into a gin fan and I would never consider buying a bottle, much less ordering this at a bar, regardless of my Bar rating. In fact, I still hate gin. Back to whiskey. Cheers!
BRAND NOTES
---
Treaty Oak Distilling does things a little differently. As a team of sommeliers, botanists, distillers and architects, our varied backgrounds represent a new way of spirit making. We look to film, music, cultural exchange and beyond to push ourselves and fuel a new path forward.
Inspired by the world around us, we have hand crafted an unbound line up of spirits that makes us proud: Waterloo No.9 Gin, Waterloo Antique Gin and Waterloo Old Yaupon Gin.
"Building on centuries of traditional Dutch jenevers distillers - thought by many to be the origin of gin - Treaty Oak ages Waterloo Antique gin in medium-char, white oak barrels to create body and complexity of flavor and robust mouth-feel unusual in gin. It's a dash of whiskey richness in a crisp, gin flavor.
Already botanically hearty, Waterloo gin is aged for 18 to 24 months, allowing the interaction between wood and spirits to create richer, deeper flavors and aromas, engaging the palate in a long conversation about taste and expectations."
here comes a time when a company is able to define and separate itself, and we feel we have done that with Waterloo Antique.
-TREATY OAK DISTILLING
---
---
Disclaimer: Treaty Oak Distilling provided Bourbon & Banter with a sample of their product for this review. We appreciate their willingness to allow us to review their products with no strings attached. Thank you.