Whiskey in the Winter Recap
Winter is the perfect time of year to enjoy whiskey. So when I heard that Synergy Productions was holding their first ever "Whiskey in the Winter" event on Saturday, December 1st, I knew I had to attend.

Winter is the perfect time of year to enjoy whiskey. So when I heard that Synergy Productions was holding their first ever "Whiskey in the Winter" event on Saturday, December 1st, I knew I had to attend.  I immediately reached out to Amit Dhawan and his team at Synergy to get more information.  After speaking with Amit about his vision for the event, I was more convinced than ever that it was an event not to be missed.
(Disclosure: Synergy Productions provide me with complimentary tickets in exchange for assistance in promoting the event.)
Leading up to the event I had a lot of people approach me asking if I thought the event was going to be legit and worth the ticket price. It was after all the first major whiskey festival to be held in St. Louis and folks weren't sure if there was a big enough market to support the vent.  Knowing firsthand Amit's vision for the event, and his successful track record at event production, I told everyone that I expected it to be nothing short of amazing and definitely something they should be there to experience first hand.
As the day of the event arrived I was like a kid waiting to open his presents on Christmas morning. I was literally counting down the hours to the event started. After what seemed like an eternity the hour finally came and the doors opened at 6 pm to a large and enthusiastic crowd of whiskey devotees. Joining me at the event were a longtime personal friend, Brian Posnanski, and Bourbon & Banter readers, Justin and Christine Bruegenhemke – winners of the Bourbon & Banter ticket giveaway to the event.
Upon entering the room where the brands and distillers were setup I was in complete awe at the sheer number of whiskeys waiting to tasted by yours truly. For a few moments I forgot all about my tasting plan of attack and simply marveled at the pure wonder of having some many amazing whiskies in one place…in St. Louis. Luckily my friend Brian brought me back to my senses by eagerly asking where we should start. So, as with any longer journey we choose to start at the beginning, which just happened to be Pendleton Distillery.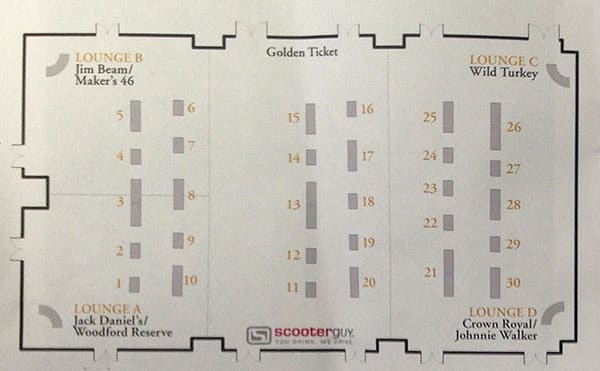 The event offered over 175 whiskies offered up by approximately 90 brands/distilleries. Every whiskey imaginable was offered including American, Bourbon, Canadian, Irish, Japanese and Scotch. If someone couldn't find something they liked to drink at the event I imagine their closet vodka drinkers.  The choices were seemingly endless, so I chose to focus on the bourbons knowing I'd have a good chance at actually making it through the event without getting lost.
Over the course of the evening I tasted most of the bourbons available except for those that I'm already on regular drinking terms with at the moment.  I found some new whiskeys that I need to explore further and discovered a few that may have been better left undiscovered.
(That's a topic for a separate blog post where I rant about people rushing to claim their own piece of the bourbon bonanza without any real effort or talent.)
I enjoyed High West's 36th Vote Barreled Manhattan quite a bit but have concerns about it's price point. Definitely one I need to take another look at and write about on the blog.  Square One Brewery's "Spirits of St. Louis" were another big surprise to me. They have some very interesting flavors going on in their relatively young whiskies and I'm already making plans to dig into their offerings in more detail. (My apologies to Steve and his crew for not taking notice sooner. You would think that being in my own backyard would count for something but clearly I need to put down my glass on occasion and look around.)
Everywhere you looked at the event you found rye whiskey in abundance. There's no arguing Rye's current popularity and after spending some time with Michael Killmer, National Brand Manager for Templeton Rye, I remember why I personally enjoy it so much.  Michael has also assured me that Templeton Rye has plenty of stock to go around and remains committed to their rye focus. If you haven't tried their product yet I suggest you do yourself a favor and grab a bottle tonight.
In addition to the whiskey sampling, the event also featured four food stations with offerings that complemented the whiskey.  I have to say the food was fantastic and the Hyatt culinary team should be given a lot of credit for providing such a great spread which undoubtedly enabled many whiskey drinkers to have a 2nd or 3rd round at the event. My personal food favorites where the Orange Brined Roasted Turkey, Roasted Apple Dressing and Giblet Gravy. I'm already looking forward to a 2nd Thanksgiving Dinner at next year's whiskey event.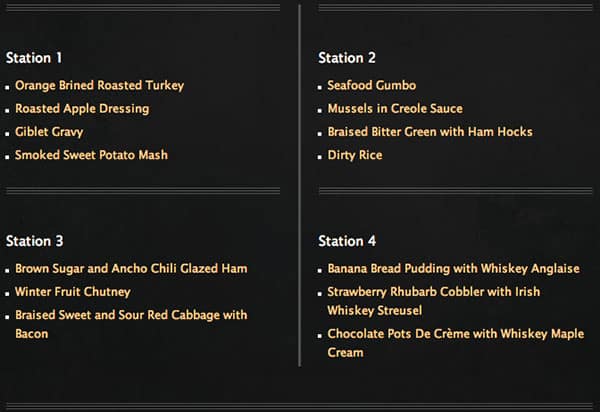 The evening also included a series of seminars led by industry players including Eddie Russel of Wild Turkey and Kyle McHugh of Diageo. I personally didn't attend any of these seminars but I've heard that many folks enjoyed getting to hear from industry folks directly and learn a little bit more about their favorite whiskey.
While I enjoyed myself immensely at the event, and feel that Amit's team did a wonderful job hosting it, there were a few things that I would like to see addressed in future Whiskey in the Winter events. I'd love to have someone sponsor a schwag bag for the evening. Event rules prohibited anyone from bringing a bag into the event, which I completely understand. However, many of the whiskey stands were giving away paper-based information, coasters and other trinkets that became difficult to carry around without a bag to hold them.  Having attend more than my fair share of trade shows in the past I think having a bag sponsor is entry stakes for an event of this magnitude.
I was disappointed that the VIP bar ran out of most "Golden Ticket" whiskies by the time I made it over to try them out.  With such a ticket price premium over regular admission I'm sure more than a few folks were frustrated when they couldn't try the whiskey of their choice. I spoke with Amit directly about this issue and he assures me that they're already looking for ways to make sure it doesn't happen again next year. He told me that they had planned for a surplus of each whiskey but were surprised by how much guest selections where skewed towards just a few brands.  Chalk it up as a lesson learned and one that I'm sure will not be an issue next year.
The only other critique I have of the event had nothing to do with Amit's team or the event itself.  It has to do with the fact that despite the event name, Winter was nowhere to be found. Unseasonably high temperatures made it feel more like Whiskey in the Spring and as a result the temperature inside the event was a little high for my personal comfort.  Not sure if there was anything that the Hyatt could have done to cool things down but I know several folks who would have been very appreciative if they had.
When it was all said and done I had a fantastic time at this year's Whiskey in the Winter.  Amit and his team at Synergy Productions deserve a big round of applause of bringing St. Louis their first whiskey festival. They should be proud of their inaugural event knowing that they brought a big dose of liquid sunshine into the lives of 750+ St. Louisians this past weekend.  I look forward to next year's event already and hope that Bourbon & Banter can help Amit and his team make it bigger and better.
Cheers!
PS – And don't forget to make sure you buy your tickets well in advance for next year's event. This year's event sold out fast. Don't miss your chance to hang out with 750+ whiskey lovers. It doesn't get much better than that.
PPS – I also want to thank the local event partners that help pull this off. I'm not officially a part of the event this year but I do realize what it takes to pull something like this off. Thanks to the following businesses that believed in the idea and help make it happen.