WhistlePig Boss Hog Review
With the rye whiskey renaissance, it was only a matter of time before someone decided that ryes needed something that would make a statement as big and bold as any old, high-proof bourbon. Turns out that someone is WhistlePig. WhistlePig is a rye whiskey company.

Jim Halbleib is our guest blogger today with his WhistlePig Boss Hog review. As with our other Help Wanted applicants we ask that you share your thoughts on his post in the comments as well as online where you can find Jim at @kramerica099.
---
With the rye whiskey renaissance, it was only a matter of time before someone decided that ryes needed something that would make a statement as big and bold as any old, high-proof bourbon. Turns out that someone is WhistlePig.
WhistlePig is a rye whiskey company. They only make rye whiskeys, and they are trying to do them differently. They're not making rye for the cocktail market. Rather, they're making rye to enjoy neat and sip slowly as any great whiskey. Their 10-year and Old World ryes have won awards and have been well-received, even though they do get taken to the wood shed over their marketing.
WhistlePig has been sourcing their rye distillate from distilleries in Canada, and the company has been forthcoming about that. Some whiskey snobs are crying foul. Personally, I think their ire is misguided. There have been non-distilling producers for 50 years. It is nothing new. Frankly, most of the flavor comes from aging and barrel selection more than the actual distilling process So really, the focus should be on whether it is good or not rather than distillate sourcing.
They now have a still, and they will be distilling their own juice. But it will be some time before that will be released.
The Boss Hog is unique. It is a 100% Canadian rye whiskey. It is a single-barrel, cask-strength rye aged 13 years and 9 months. This is truly unique. Most rye whiskeys are not aged that long., Very few are at cask strength, and 100% ryes are hard to find. The rye grain is a tough grain to grow and to mash, and the Canadians know how to use this grain. Rye likes colder temperatures. It's a temperamental grain that can leave a distiller with a gooey mess if you do not mash it right.
The Boss Hog is special because of the selection of the barrels. Raj Peter Bhaka started WhistlePig, and Dave Pickerell is the Master Distiller. Dave is well-known in the bourbon community. He was the Master Distiller for Makers Mark and owned Rotec Engineering, which was an engineering company that specialized in distillery projects. I have worked with him, and he knows whiskey. This Boss Hog was hand-picked from 50 barrels by Dave himself, and you can tell the care he took to pick these barrels. The Boss Hog is completely different from other WhistlePig products.
I have had both the 10-year WhistlePig and the Old World WhistlePig, and I like both of them. There is a good reason why these whiskeys are winning awards, and the Boss Hog is no exception.
The Boss Hog won Best Rye Whiskey at the 2014 San Francisco whiskey event.
When you just look at the whiskey in the glass, it is dark and viscous, and when you smell it, you know it is something different. You can smell the alcohol, which is to be expected at 121 proof. Letting it sit a bit will help the alcohol breathe. I would recommend pouring it in your glycerin glass and letting it sit for a couple of minutes. Make sure you take a big sniff, because it is just an awesome nose; it smells like hot rye bread, yet more complex than that. I like to just swirl it and smell it. You know this is something different and big.
Once you take a drink, you will want to just chew this whiskey and make sure you touch all parts of the tongue. Even though it is barrel proof, the alcohol may be apparent in the nose, but not so much in the taste. If you drink it properly, it does not burn. Rather, it just explodes in flavor. It can bring you to your knees. This is a big, bold rye; it is not subtle like the Sazerac 18, and more flavorful than the Thomas Handy. Since it is 100% rye, it has spice, but I would not say a burning spice. It's just a wonderful rye experience. It is hard to have just one pour with this whiskey.
That said, this whiskey is not for everyone. Even whiskey aficionados may not get this whiskey. That's fine. Not everyone likes George T. Stagg, and that is what I would compare this to. The "Stagg of Ryes" is a great description of this whiskey. If you love ryes, it is imperative that you try to find one. I loved it so much I got a second bottle to make sure I had some for summer.
There were about 6,000 bottles made and released in late 2014, and it carries a price tag of $169-$199. Frankly, I think it is worth it. It is a unique rye whiskey that bows to no one. That alone should make you want it for your collection. This whiskey is not for just looking pretty. It demands to be drunk, and like Lays Potato Chips, you will want more than one.
All Hail the flying pig!
WhistlePig Boss Hog Review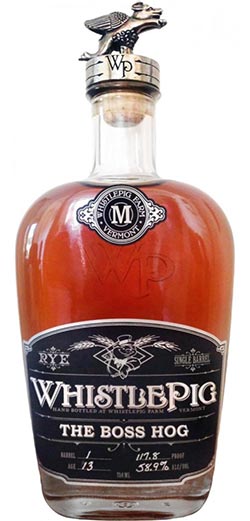 BOTTLE DETAILS
---
Whiskey Name: WhistlePig Boss Hog Spirit of Mortimer
Proof: 98.6
Age: 13 years and 9 months
Year: 2014
JIM'S NOTES
---
How I Drank It: Neat in a glycerin glass, and then a second glass with a small amount ice that I let melt. Poured in the glass and let sit for 5 minutes. Dropped ice in the second glass and waited 2 minutes before drinking. Drank the neat one first.
My Nose Noticed: You can smell the alcohol but in a good way. Warm rye bread, allspice, herbal, fruit, big and complex.
First Sip: Spice, rye bread, nutmeg, mint, just a taste explosion, without the burn. You just want to eat it.
The Burn: While this is a cask-strength whiskey, and the alcohol is present in the nose, it does not overpower the taste, even less with a little water. If sipped properly, there really should not be a burn. You will just want to savor this one. It has a great spice, big and complex, and the taste lingers. The viscosity is like a velvet coating.
Neat, Splash or Rocks: I do all three. I like to drink it several ways, but for the Full Monty, neat is the way to go
After putting a small ice-cube in the glass and letting it melt almost completely, the water seemed to brighten it up some, but I did think it softened the nose. It still had power, but not as much power. For some you are going to like the ice or water. For those who want the full power, neat is great and you want to smell it, just like an Opus One Cabernet.
Share With: Close whiskey-loving friends by a fire with some soothing music playing in the background as the dessert course for the night.
Worth The Price: Oh, my yes, for the professional bourbon snob. Even if you are not into ryes, this is a must for your collection.   It is truly unique, and it should be shared with people. This is not for the faint of heart, so if you are new to whiskey, I am not sure this would be worth the price for you. I just bought a second one, so I put my money where my mouth is.
Bottle, Bar, or Bust: If you are a rye head, this is easy: Find a bottle. This is a must have for people who love sipping ryes. If you are just getting into ryes, or have not really had a rye, then you should try to have a taste first, which is going to be hard. I have only seen this in a bar one time, and I travel all over east of the Mississippi.