Woodford Reserve Double Double Oaked Bourbon Review
Woodford Reserve is another proud whiskey brought to you by the fine folks at Brown Forman. Woodford Reserve is their flagship bourbon and is known as a premium bourbon, which many bourbon and whiskey enthusiasts can always enjoy.
Continuing our Help Wanted applicant guest posts today by featuring Josh Zeller's review of Woodford Reserve Double Double Oaked bourbon. Make sure to find him online at @j_zizzle14  and let him know what you thought of his review. And if you've ever tried this one yourself make sure to let us know your opinion in the comments below the post.
---
Woodford Reserve is another proud whiskey brought to you by the fine folks at Brown Forman. Woodford Reserve is their flagship bourbon and is known as a premium bourbon, which many bourbon and whiskey enthusiasts can always enjoy. Until the last few years, Woodford Reserve had been conservative in their offerings, letting their fine Distiller's Select carry the reputation for the company. With the boom of the bourbon industry even the most reputable distilleries have created new offerings to expand consumer options and maximize revenue. Woodford has added a Master's Collection, Double Oaked, a soon to be wheat whisky, and now their Distillery Series.
The Distillery Series offers two choices in their Sweet Mash Redux and a Double Double Oaked. Woodford Reserve Double Oaked is Woodford aged as always and then spend an additional year in a new barrel with heavier char to achieve a more complex flavor. I feel the Woodford Double Oaked is an excellent bourbon and was very excited by the idea of their newly released Double Double Oaked. The Double Double is a creation by Master Distiller and gentleman, Chris Morris, and is a fully aged Woodford Reserve bourbon, aged again for one year in a new heavier charred barrel, and then it is again aged in a heavily charred, new barrel to experiment with aging, barreling, char, flavor, and finish. Will the Double Double Oaked live up to the heritage of Woodford Reserve Distiller's Select and the smooth, full flavor of Double Oaked?
Woodford Reserve Double Double Oaked Bourbon Review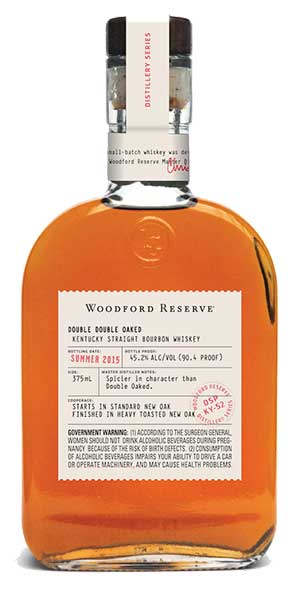 BOTTLE DETAILS
---
Bourbon Name:  Woodford Reserve Distillery Series Double Double Oaked
Proof: 90.4
Age: NAS – No age statement, but research shows Woodford Reserve is aged on average 7 years.  Double Oaked an additional year and Double Double Oaked an additional year for a total of an estimated 9 years.
Year: 2015
JOSH'S NOTES
---
How I Drank It: Neat in a Glencairn Glass and once more on the rocks in a rocks glass.
My Nose Noticed:* Cinnamon, vanilla, subtle caramel. The scent is strong; you recognize the distinct bourbon smell without being overwhelmed.
First Sip: Glencairn/Neat–Minimal burn upon the first sip. Bourbon flavor really shows up on the back and sides of the tongue. The taste is rich and has a warm bourbon feel to it while it coats your mouth. The final finish is delicious as well. The taste continues its warm progression with no final after burn. It is a very smooth and satisfying bourbon to drink neat.
Rocks Glass/On the Rocks–Full disclosure, I prefer my bourbon on the rocks almost exclusively, but this bourbon is a tremendous letdown on the rocks. Once the bourbon is poured over ice and some ice melt occurs, the flavors of the bourbon absolutely die. The burn, the warmth, the taste, the flavor all disappear. All that remains is a very soft, dull bitter bourbon flavor. It left me very disappointed in the overall product. Typically ice or water can increase the complexity of bourbon and make it sweeter to taste. For the Double Double Oaked, it killed the bourbon.
Neat, Splash or Rocks: Absolutely, without question, enjoyed neat. I do not recommend on the rocks or as a cocktail.
Share With: Bourbon lovers and enthusiasts. Do not recommend sharing with those who mix their bourbons or enjoy some ice or water with their whisky or those new to bourbon, they will leave feeling disappointed in Woodford Reserve and this product in no way reflects the brand that is Woodford Reserve.
Bottle, Bar or Bust: The 375 ml bottle is priced at $40 at the Woodford Reserve Distillery. It can also be purchased at a few select retailers for a similar price. Despite the enjoyment this bourbon provides when enjoyed neat, I cannot recommend purchasing this product for your home bar. The price and perhaps the journey involved in finding a bottle of your own do not reflect the enjoyment you will experience when drinking it. Hate to say it, but BUST.
---
*I like to let my whiskey sit in the glass for at least 5 minutes before I start to smell it or have a drink. I personally find that it's better to let some of the alcohol waft off before diving in. If I'm drinking bourbon on the rocks I skip the waiting and dive in both feet first. In this case thought, the whiskey really required more like 20 minutes to balance out.

**Some of you refer to this as the "finish" but let's be honest. Don't we all just want to know if it burns good?