You Need to Meet… Michael Myers at Distillery 291
It's hard to draw any other conclusion after hearing Michael Myers' incredible journey from New York photographer to the founder of one of the most decorated craft distillers in the world, Colorado Springs' Distillery 291.

"Everything happens for a reason."
It's hard to draw any other conclusion after hearing Michael Myers' incredible journey from New York photographer to the founder of one of the most decorated craft distillers in the world, Colorado Springs' Distillery 291. All along the way, the signs guided him toward his calling- not merely as a producer of whiskey, but as a true artist of flavor.
It all began in his Georgia dorm room at Savannah College of Art and Design, where he studied photography. While sipping on the Jack Daniel's that was distilled just miles from his childhood farm in Tennessee; he became fascinated with Alfred Stieglitz's famous early 1900's art gallery called "291", which elevated photography to the same stature as painting and sculpture. And by the way, his dorm room number also happened to be room 291.
Myers' successful career as a fashion photographer led him to Manhattan, where he and his family lived in an apartment three blocks from the World Trade Center. After the terrorist attacks of September 11, 2001, the Myers' were unable to return to their apartment, so they relocated near his wife's parents in Colorado Springs. Following years of commuting between New York and Colorado, including an attempt to return to life in their old apartment, Myers decided to do something different.
While searching for a career that would end his commuting between the mountains and the coast, Myers read an article about Steven Grasse, the creator of Hendrick's Gin and Sailor Jerry, and he thought, "Well, I could make whiskey…that'd be cool."
Since he'd never brewed beer or distilled before, he read everything he could on the subject. Realizing that purchasing a still from Kentucky's Vendome Copper & Brass Works was going to be too expensive, Myers figured, "I'm from Georgia where they made whiskey in the woods. I didn't see why I couldn't build a still." Here is where Myers' career in photography proved essential, but not for the reasons one might suspect. A still requires copper, and it just so happened that Myers had seven copper photogravure plates he created for a show back in New York. With the aid of a welder, Myers converted those plates into a 45-gallon finishing still. Today, Distillery 291 has a 300-gallon finishing still, but that original still continues to be used as a "thumper" or "doubler," meaning every drop of whiskey ever produced by Distillery 291 has passed through those original copper photogravure plates.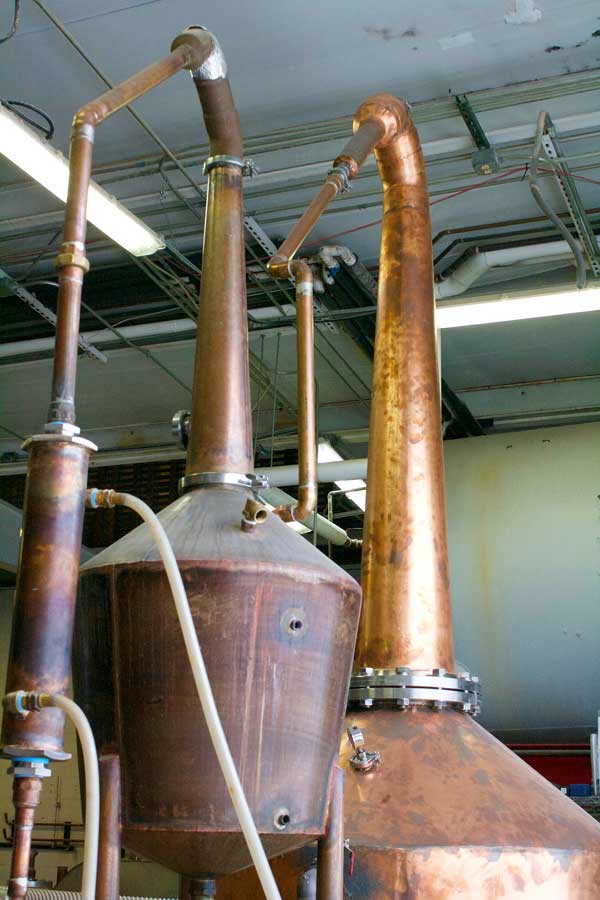 Because he'd been educated and trained as a photographer, Myers focused on mastering the many technical aspects of that discipline. In fact, he sees tremendous parallels between the process of distillation and the process of working in the dark room. No doubt this serves him well making whiskey. But in retrospect, Myers regrets as a photographer that he didn't "push the limits as much as I felt I wanted to."
His other lifelong passion has been cooking, and this is where Michael Myers' creative talents are set free. Crediting his parents with his early appreciation for great cuisine, and without the shackles of a structured culinary training, Myers developed his palate primarily through artistic experimentation. Likewise, with no training or experience distilling whiskey, Myers has relied on that same palate to guide his experimentation.
The symbolism of the copper plates, technical tools left over from a technical career, being converted into a whiskey still, representing Michael Myers' creative fountain, would be enough. What happened next bordered on the supernatural. Originally scheduled to be completed in the Spring of 2011, unexpected fabrication delays pushed the still's completion date back several months. As a result, Distillery 291's first batch of whiskey was distilled on the 10th anniversary of 9/11. "I always say without 9/11, there would be no 291," Myers said. This greatly helped "to recreate it as a more positive anniversary for me."
From his books, Myers learned that a new distiller should have its wash produced by a local brewery. So he hooked up with Mike Bristol from Colorado Springs' Bristol Brewing Company and began by distilling with Bristol's IPA. The result? It was "just atrocious." However, only a true artist in the kitchen could transform a failed batch of whiskey into a totally innovative distilling method. While emptying the still down the drain, Myers wound up inventing what he now calls the "El Paso County Process."
As the contents of the still poured out, Myers noticed that the spillage was like a flavorful citrus and hops tea. He took that tea-like spillage, began boiling the alcohol off the beer and then mashed it into his next batch. This process, he says, adds an essential depth and consistency of flavor to his whiskey. From that point on, every Distillery 291 product has contained a percentage of reduced IPA spillage, and nobody else in the world does this.
The other thing nobody else in the world does is finish whiskey with Aspen trees. Being in Colorado, Myers knew he wanted to make a Western-style whiskey. After aging the whiskey in 10-gallon charred oak barrels for about a year, the barrel bung is popped, toasted Aspen staves are inserted for 2-3 weeks, and the bung is left open to allow for some oxygenation before bottling.
Myers' love of Rye flows into his two base whiskeys, the Colorado Whiskey (Rye) and the Colorado Bourbon. In fact, the mash bill of the Colorado Whiskey was based on his favorite spirit, Buffalo Trace's Thomas H. Handy Sazerac Rye ("THH"). The Colorado Bourbon mash bill contains 19% rye. There is also a Four-Grain recipe (corn, rye, wheat and barley) called "Bad Guy," released in limited quantities each year.
A common fallacy among enthusiasts is that whiskey can't taste great unless it's been barreled for several years. But from the beginning, Myers intended to produce white, un-aged versions of his whiskies (called "Fresh"), and to do this; the distilled whiskey had to be outstanding immediately. "When a white dog is coming off the still, you know if it's going to be good," Myers explains. "If you start with a really good white dog, and you're like, 'I'm ready to drink this now,' putting it into the right barrel for the right amount of time should only make it better."
Distillery 291's aged whiskies, barreled for just a year, began winning prestigious awards right out of the gate. For now, this is the model that works and, though we may see Bottled-In-Bond or longer-aged versions sometime in the future, Myers is "not going to rush anything, and I'm not going to do anything that changes the quality of my product." As if huge wins at London's World Whiskies Awards and the San Francisco World Spirits Competition weren't enough, Jim Murray (of Jim Murray's Whisky Bible) marveled "that whisky just a year old can be this good is obscene."
The two distilleries that have influenced Myers the most are giants: Jack Daniel's, so close to his family farm in Tennessee, and Buffalo Trace, creator of his beloved THH Rye. Vital similarities exist among the best distillers, large or small. Like Buffalo Trace, Distillery 291 focuses on consistency with its base whiskies. Like Buffalo Trace, Distillery 291 has an experimental line ("291 E"). And something Myers noticed very early on in his distilling career while peering into Buffalo Trace's huge 4-story tanks: the top of the fermentation tank had the identical pattern as in Distillery 291's 55-gallon drums. That was an immediate validation for Myers who felt, "Hah! I'm doing something right!"
Myers' base whiskies will remain the Colorado Rye and Bourbon, but innovation and evolution continue as a collaborative effort. In 2011, shortly after distilling his first batch, Myers held a tasting of his white whiskeys, where he met Eric Jett. Jett impressed Myers so much that he eventually became Distillery 291's very first hire as the full-time distiller. Weekly team meetings foster new ideas as well as opportunities to taste and discuss other award-winning craft spirits produced by their friends in the industry (Myers refuses to call them "competitors" because of the incredible camaraderie among them).
Experimentation is a cornerstone at Distillery 291, and it resulted in its most-awarded bourbon to date, the "Bad Guy" four-grain bourbon. Early on, Myers had been working on remaking his un-aged "fresh" white whiskey and, not feeling the new recipe was an improvement, decided to return to the old recipe. Rather than dump it, Myers put the "rejected" batch into barrels to age it. Bottled a year later, Jim Murray gave the first "Bad Guy" release a score of 95.5! What could have easily been drain-poured became the company's most celebrated product (released each fall annually). Innovation can happen by mistake as well. Once, when Myers mistakenly gave Jett the wrong recipe for distilling, a Bourbon with twice the amount of rye was produced. It was so good that Distillery 291 HR ('high rye') was produced and bottled a second time.
Every discussion about craft distilleries includes the topic of sourcing whiskey, and this is something Myers never considered doing. He explains, "My whiskey doesn't taste like any other whiskey out there, and if I had been sourcing, for me to match what I was sourcing, it would be near impossible." A giant conglomerate like MGP makes excellent whiskey, but the base of their whiskey will largely be the same for all the brands who source it. Myers points out what some distillers attempting to transition from sourcing to distilling have learned the hard way: "To make whiskey from scratch, it's not an easy thing, and you have to have a lot of patience."
Given the flurry of craft distillery acquisitions, including High West and Smooth Ambler, over the past several months, one has to view a successful, authentic company like Distillery 291 as a takeover target. When asked about this, Myers' first answer characteristically focused on High West's genius in their innovative business model: "High West sources their whiskey, but they tell you that. They are blending whiskeys, something that nobody else in the United States is doing. Scotch has been doing it forever, and I think that's an amazing thing that they saw that and decided to do that with American whiskies." In the case of High West, Myers feels "it will give their brand a lot more distribution, and the whiskey won't change that much." For an acquisition of a craft distiller who makes all their whiskey, however, he notes the potential risk that "it might change their whiskey drastically because [the new parent company] might not think they're making their whiskey clean enough, etc."
Though Distillery 291 has brought on partners along the way for growth capital, "they don't have a say in my recipes or what I'm doing," Myers says. That being said, a future co-partner would be an interesting idea to him, particularly a large distillery with generation knowledge or expertise in distribution. As for an outright sale of the company, "It would have to be a big check," Myers says laughing.
Distillery 291 is the culmination of Michael Myers' life's work, the result of an artist's brush finally finding the right canvas. "We strive daily to make the best whiskey we can make, and that's the plan," Myers explains, "Just keep putting it in barrels, making it great, experimenting, and pushing the edge of craft whiskey." Just last month, California became the first state outside Colorado to distribute Distillery 291 Whiskey. International distribution could be next.
Despite recent upgrades in equipment and capacity, Myers proudly says his whiskey is exactly the same. And that statement tells you everything you need to know about your next glass of 291 whiskey- It already tastes exactly the way Myers wanted it to. Whether neat or mixed with lemonade (his favorite Summer drink), he prefers his own whiskey to all others (save for the THH, which he also has no problem mixing with lemonade!). "People will freak out," he exclaims, "but the better the ingredient, the better the drink. If you want a really good cake, you buy really good ingredients." Always the artist, always the cook, and now: one of the most exciting distillers out there. Everything happens for a reason, indeed.
---
If you want to check out Distillery 291 in more detail, we recommend viewing their 291 Look Book. Great information, amazing photos and a chance to get to the heart of what makes Distillery 291 special.