You need to meet… Ryan Geller at Basecamp Wine and Spirits
"In the mountains (of Colorado), things tend to run a little behind the times," said Ryan Geller, co-owner of Frisco's Basecamp Wine & Spirits, which opened its doors on Christmas Eve 2014.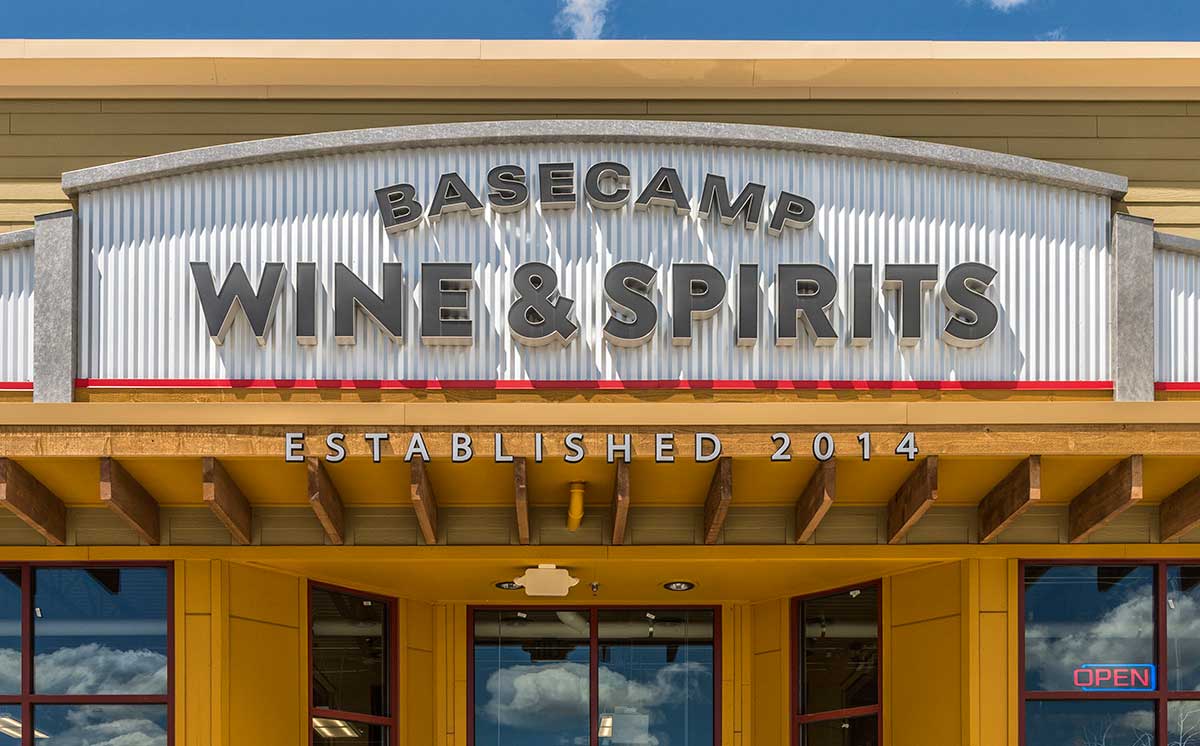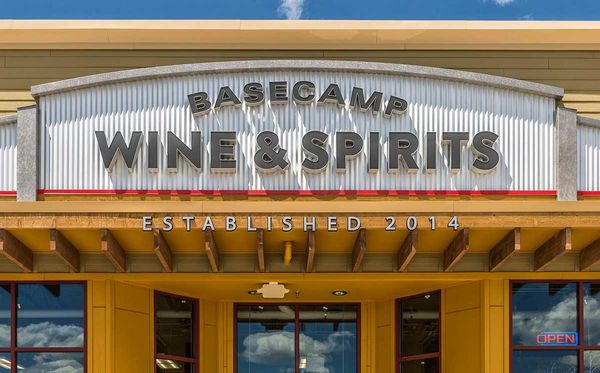 "In the mountains (of Colorado), things tend to run a little behind the times," said Ryan Geller, co-owner of Frisco's Basecamp Wine & Spirits, which opened its doors on Christmas Eve 2014. He says this without a trace of irony, though it's stunningly ironic to me, given that his liquor store is as progressive and incredible as any in the state (and perhaps in the country). "I wanted to make this a destination," Ryan says, "a place where people feel comfortable and not just a store."
Located next to the Whole Foods just off I-70, it's a convenient stop for anyone traveling to Breckenridge, Copper Mountain, Vail or Beaver Creek. Even if you happen to be in Denver, the beautifully scenic drive is well worth your time because there's nothing like Basecamp anywhere. It is a socially responsible, philanthropic liquor store driven by conversations with its customers.
To understand why Basecamp is so unique, you have to know Ryan Geller. Think Mark Cuban, the ultimate basketball fan, buying the Dallas Mavericks and running the team through a very different set of eyes. Now translate that to a liquor store. The whole team is not only passionate about their products but smart enough to know what they don't know. "We learn from our customers every day," he stresses, "They guide what products we offer in the store."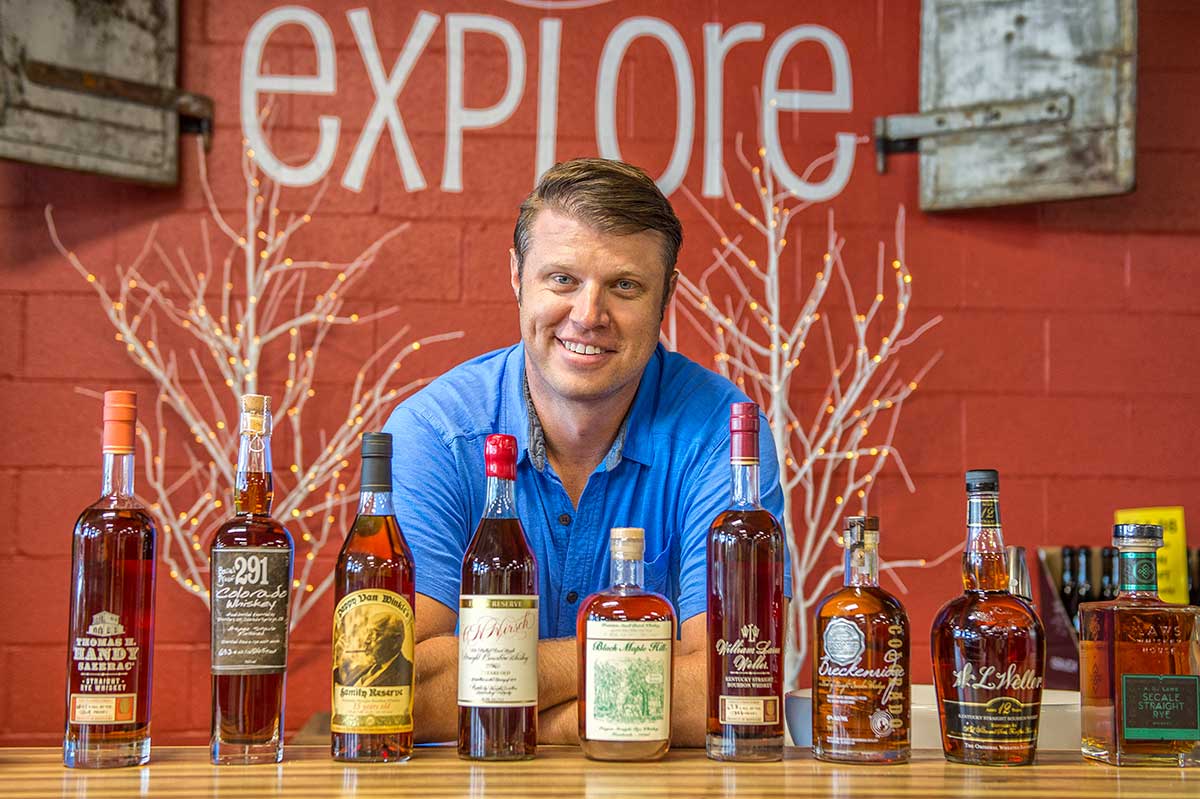 Ryan was born into this industry. His father spent fifteen years with Seagram's, where he eventually ran the entire state of California, and later moved the family to Colorado to become President and CEO of Beverage Distributors (now Breakthru Beverage Distributors) when Ryan was just four. Though whiskey collecting has only recently become a widespread craze, an 8-year-old Ryan was already collecting mini bottles when he wasn't riding the Beverage Distributors' warehouse forklift with his brother. Since attending Cornell Hotel Restaurant Management school (double majoring in Self-Directed Beverage Management and Finance), he has spent time working at Geyser's Peak Winery, Schieffelin & Somerset (now Moët-Hennessy) and Guinness USA. While participating in launching several brands, he developed a real appreciation for tradition, craftsmanship, and storytelling, which he brought back with him to Beverage Distributors in Colorado.
Ryan will never miss an opportunity to credit and praise his "pretty spectacular" team for Basecamp's success. "They're the ones who make this happen," he offers, "They make up for my shortcomings." But there is no mistaking where the vision, passion and culture come from. Entrepreneurial from a young age (his first job was washing dishes at Mile High Stadium when he was 12), his parents ensured he had a strong work ethic. Believing that "If you want it, you've got to make it," he has started and sold multiple start-ups along the way. Two early pieces of advice have always remained fresh in his mind, shaping his professional life and setting him on a different path than most business owners. The first chokes him up as he repeats his grandfather's words: "If you love what you do, you'll never work a day in your life." The second, from his father, has kept Ryan focused on giving back to the community: "If you are fortunate enough to be successful and have money, you better use it to help people."
From the beginning, Basecamp has been committed to supporting all different types of charities in Summit County and throughout the state. Contrary to a widespread public perception that the mountains are a wealthy area, nearly 50% of households are low-income. Ryan rarely says no to reasonable requests, and for the occasional event where they have to charge guests to attend, 100% of proceeds are donated to local causes. Last year, Basecamp even paid the venue cost out-of-pocket for a Pappy event benefitting Peak School, the only private school in Summit County so that those costs wouldn't reduce the total contribution amount. This year, Basecamp is expanding the event to benefit every school in Summit County. Vendors, restaurants, Whole Foods and Vail Resorts have all gotten on board in the hope that this will grow and remain a marquee community event. "This is where my business is, this is where I live," Ryan says. He's also a member of his kids' school board.
Restaurateur Shevy Rashidi brought Ryan the opportunity to open Basecamp next to the new Whole Foods opening in Frisco. Ryan and his new partners (Shevy's kids) knew they'd be the perfect neighbors for their new liquor store. He explains, "Their mission is a great one: Conscious Capitalism. They are a business, but they try to do it responsibly. They focus on health and sustainability, and are a steward to the community." Likewise, Basecamp is currently in the process of attaining Green Globe certification, "reserved for companies and organizations who are committed to making positive contributions to people and planet." Built from the ground up, Shevy and Ryan used a lot of reused and reclaimed products for the space. Wine racks that were headed to the garbage dump, a chandelier made from recycled beer bottles, and the lowest possible energy-consuming HVAC system were just the beginning. Every single light bulb in the store is LED. Each of the revolutionary digital price tags in the store may replace a thousand plastic tags over its 10-year life. They also happen to look state-of-the-art while also reducing the carbon footprint.
Every single night, Ryan spends 45 minutes reviewing that day's numbers. Sure, it informs him what is happening at the store, but, perhaps equally as important, there are critical next-day bragging rights at stake for the managers of each department! This group has largely been with him since the beginning and they have a tremendous amount of influence on inventory. "We don't have many signs like most liquor stores do," Ryan says, "We wanted to show people around the store and engage them in a conversation."
Underneath the giant painted words "Taste and Explore," plenty of these conversations regularly take place. Basecamp not only hosts regular free wine, beer and spirits tastings, but also special events like champagne and oysters. Why are these events free, when so many other stores charge for them? Ryan explains, "When you ask someone to come in and buy something new, they have to take a leap of faith, and that can be very difficult. But if you give them the experience to say, 'Taste this, this is what we found in it,' they're more likely to try something different and see what else is actually out there." There is another benefit to this concept, and here he repeats the essence of the Basecamp experience: "Listening to our customers and learning from them is how our products have grown. They're going to tell you what the best thing is and what they really want. We can't shove it down their throat."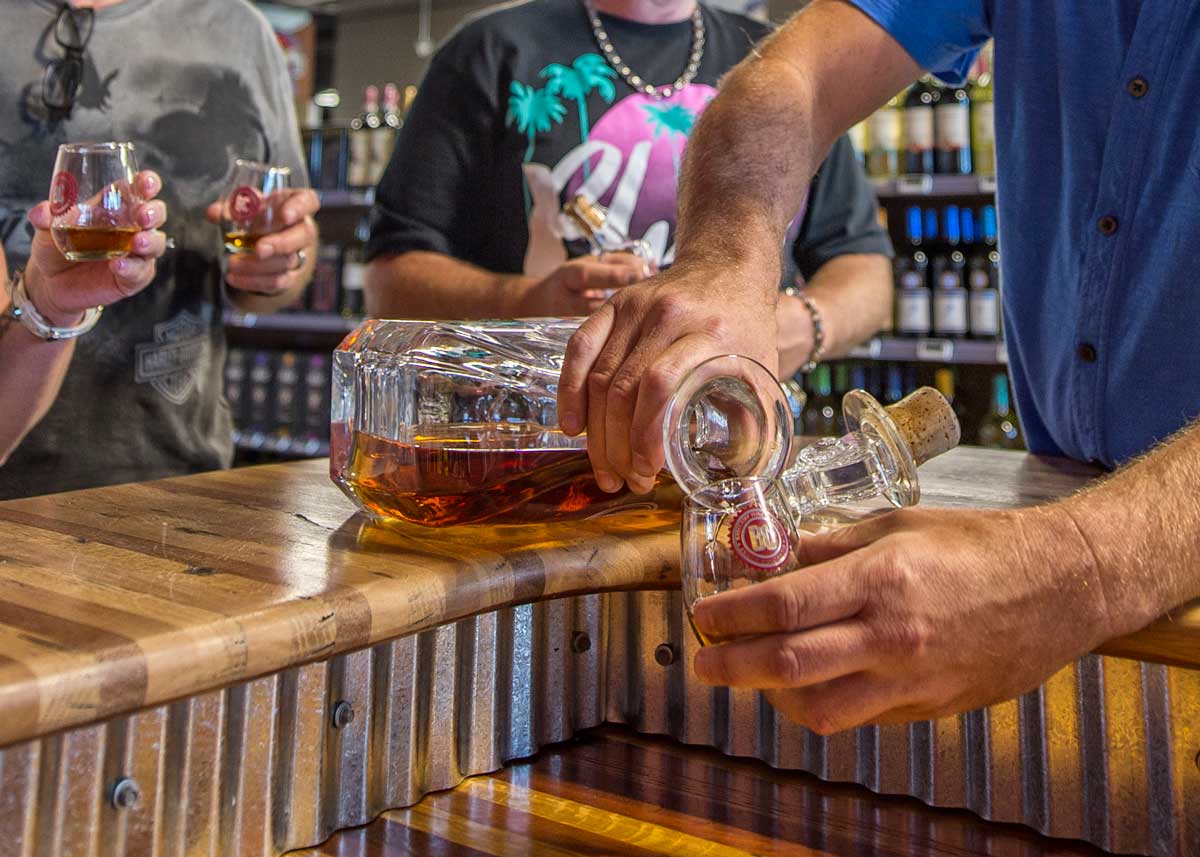 Quoting Ben Franklin, Ryan lives by the motto "Well done is better than well said." He obsessively walks the store and stocks the shelves himself. Calling it 'therapeutic', it also keeps him in tune with what his customers are doing. On those shelves are a number of private barrel offerings you won't find anywhere else in the world. In addition to Four Roses, Jim Beam and Breckenridge Distillery, Basecamp worked with Herradura on a barrel of reposado tequila to commemorate the 2015 World Ski Championships in Beaver Creek.
Those private barrels don't just sit on display after they're bottled. Basecamp is one of the few stores anywhere that has been selected to sell beer from Glenwood Springs' Casey Brewing and Blending (recently voted #1 New Brewer In the World, by the way). Ryan has worked directly with Troy Casey to produce exclusive whiskey barrel-aged Casey beer, which you can find only at Basecamp. Through Ryan's interest in reaching out and building relationships with new and exciting distilleries, Basecamp was also one the first stores to carry private barrels from both Breckenridge Bourbon and Denver's ascendant A.D. Laws Distillery.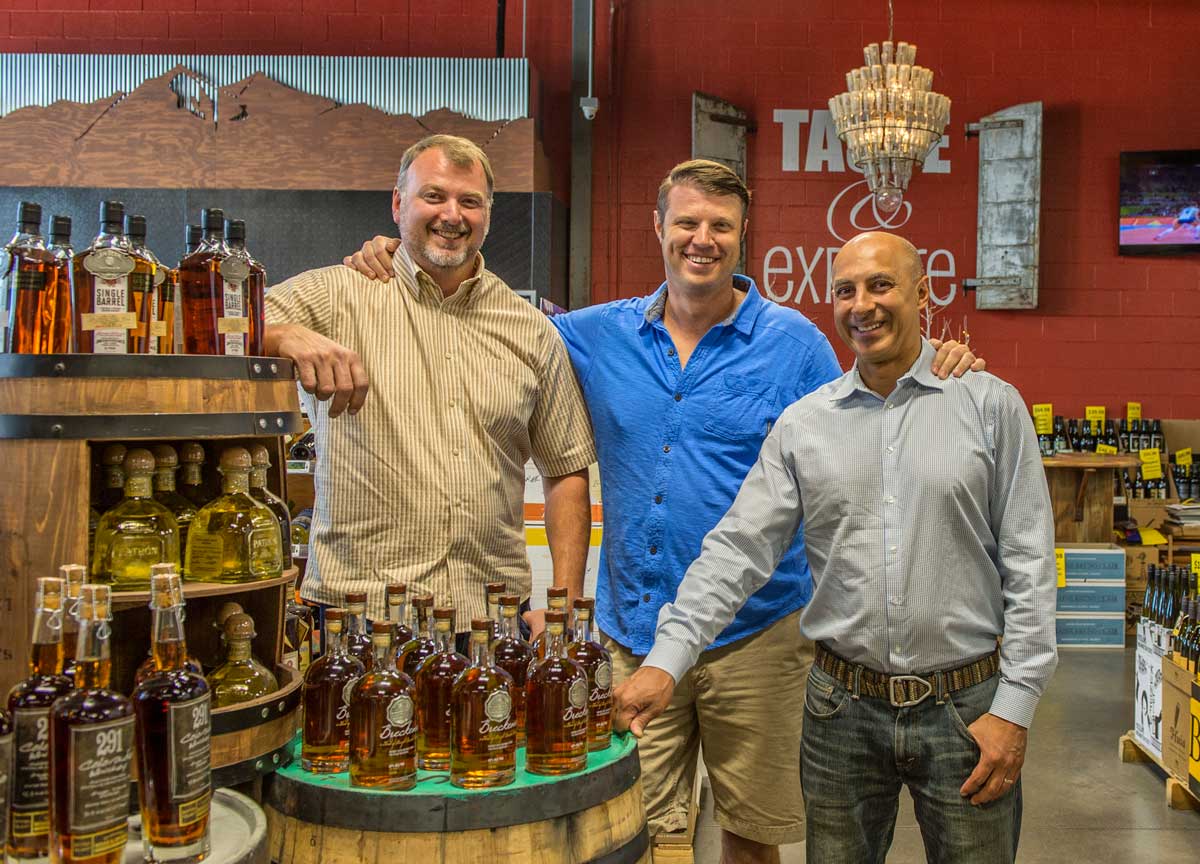 When researching ideas for the store, Ryan did what most people would never even consider: He reached out to his competitors for advice. "I was really lucky to be able to go to the best guys in this industry and they gave me their time for nothing," he gushes, "Legends in this industry like Jim Dean from Boulder's Hazel's Beverage World and Larry Merfeld from Lonetree's Lukas Liquor generously spent hours and hours and hours with me even on their busy days. They helped me with everything." Simply from the kindness of their hearts, they reviewed Ryan's plans and shared their wisdom with him. "If I can help you, I just want you to be successful," was the message they both expressed.
Merfeld is credited with Basecamp's walk-in, refrigerated Bomber Room that houses over 250 different larger format beers from all over the world. "He told me if I didn't do it, I was an idiot," Ryan frankly says. Basecamp also offers a "Pick 6" package, where you can create your very own variety six-pack from over three million possible combinations (It's worth noting they even hired an actuary to verify this fact after someone accused them of false advertising). As well-planned as the store was, Ryan has just one lingering regret: "I would have made the store bigger. We hold a tremendous amount of inventory here because we have such a selection."
When asked about the current 'whiskey boom' and the inevitable crash that several pundits have been predicting, Ryan has a very different take, informed by his lifetime spent in several different segments of the industry. "Whiskey was the #1 spirit 30 years ago and vodka was dead. Then vodka took off and rum was supposed to be the next big drink, but it happened to be whiskey." Ryan expects whiskey to overtake vodka by 2020, and will eventually peak out at some unknown time, but don't expect to see bottles of Pappy Van Winkle sitting on the shelf unless whiskey is replaced entirely by some other spirit category. He is excited by what is driving whiskey's expansion, and thinks people should embrace the changes some of the experimental distilleries are bringing to the table. Noting that while scotch isn't presently as healthy a category as bourbon, Japanese single malts are the best spirits in the world. "They went after a flavor profile and they did it very well. They are so precise with what they've done," he explains, "You're seeing that happen with American whiskeys, bourbons and ryes."
Insert purist scoff here. "Listen, the flavored stuff is all novelty, and people are trying to go away from age statements, but there will always be that traditionalist who goes for the Pappies and the Antiques because those are so fricking good and are amazing representations of what whiskey should be," he adds, "but American whiskies are going to evolve and even when it catches up, that market is still going to be there for a long, long time." A Pappy 23 still has to age for 23 years no matter how much is being produced, and there will always be that cache attached to it. Summing it up best, he says, "You can never cheat time, but what you can do is chase flavor, and the liquor revolution is that craft element of it."
Those evolving include Colorado distilleries like A.D. Laws, Peach Street and Breckenridge, who "innovate but still make great product," according to Ryan. Another company turning heads is Colorado Springs' Distillery 291, whose Colorado Whiskey, for example, is aged in smaller 10-gallon barrels and finished with toasted Aspen staves. "It's amazing," says Ryan, who naturally has already worked on private barrels with them, "You don't forget your roots, you don't forget where you came from, but you try new things and sometimes it really works." The awards Distillery 291 has been racking up seem to indicate he's not alone in his thinking.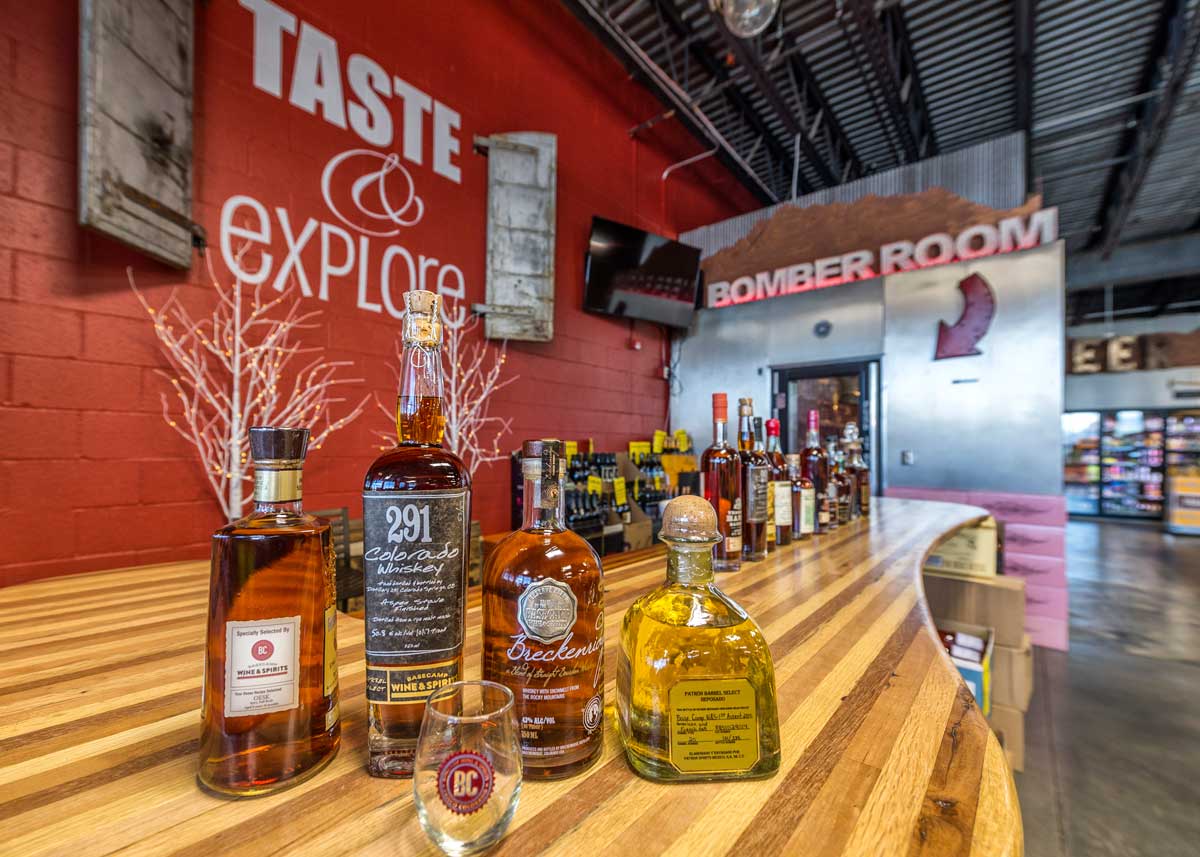 You will not find the lowest prices in the country at Basecamp and you will not be able to buy product over the Internet, which eliminates the entire experience they have worked so hard to create for you. You also will not find rare bottles marked up to ridiculous secondary extremes. Their prices are excellent compared to other stores in the mountains, where all business cost inputs are higher compared to other areas of the country. You will also not yet find them on Twitter, though I've been pushing him for over a year to set it up (to be fair, the Facebook page does do a great job promoting upcoming events). What you will find at Basecamp is a spectacular selection, a one-of-a-kind experience, and a group of dedicated, passionate people who are genuinely excited for your arrival.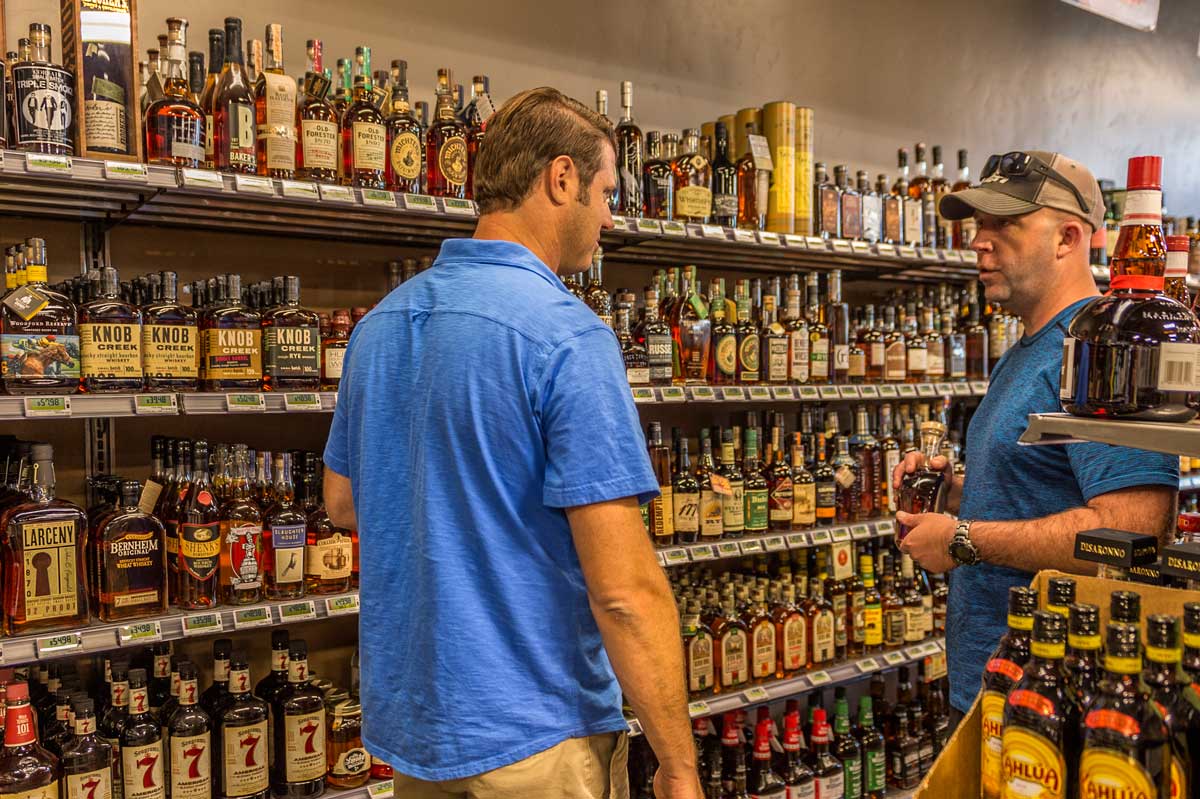 Hearing him describe the properties of the Yamazaki Sherry Cask bottle he recently sold, you'd think Ryan Geller just saw his first sunset in the mountains. "I can't get attached to things that come through this store," he says, clearly still struggling to work through that goal. A visit to Basecamp proves that he and the team have at least mastered the crucial ones. "I'm not going to go the easy route, I'm going to go the route I think is important," he says, "If you care about what you're doing, do it the right way and give back to the community, you have a better chance to be successful. And even if you're not the most financially successful businessperson, you're going to be happy. And that's why I do it."
---
SPECIAL BHM DISCOUNT
Bourbon & Banter fans can enjoy an exclusive discount at Basecamp Wine & Spirits
ANYONE WHO MENTIONS THIS BOURBON & BANTER ARTICLE AT THE STORE WILL RECEIVE $3 OFF A $25 PURCHASE, $6 OFF A $50 PURCHASE, AND $10 OFF A $100 PURCHASE.

THIS OFFER IS GOOD FOR 30 DAYS, EXPIRES ON 10/2/16.
---