2018 Bourbon Classic Recap
As someone that lives and breathes bourbon, people assume I attend every bourbon-related event held in the beautiful state of Kentucky. I would love to say that's true but the truth couldn't be more different.

As someone that lives and breathes bourbon, people assume I attend every bourbon-related event held in the beautiful state of Kentucky. I would love to say that's true but the truth couldn't be more different. As many of you know, Bourbon & Banter is a passion project of mine which means there's a far less glamorous day job that keeps my family fed and sheltered. For the past six years (roughly the same time that Bourbon & Banter has been in existence) the day job prevented me from taking time off to attend a myriad of bourbon events in Kentucky. But this year, I unexpectedly started my own company – Distilled Media Group – resulting in a much more flexible schedule. So when the generous folks at the Louisville CVB and Bourbon Classic invited me down to experience the Bourbon Classic on their media tour, I jumped at the opportunity. What follows are my thoughts, recollections, and comments about my 4.5 days immersed in Kentucky's bourbon culture.
Note: I've decided to break this recap into two posts. This first post will focus on my Bourbon Classic experience. Post #2 will focus on the distillery tours made as part of the media tour group.
BOURBON CLASSIC TOP SHELF
My Bourbon Classic experience kicked off on Wednesday evening in the Atrium at the eclectic 21c Museum Hotel where guests enjoyed an opportunity to taste the 10, 12, 15 and 20 Van Winkel/Pappy Va Winkle lineup while mingling with Preston and Julian Van Winkle. There was also a bar sponsored by Buffalo Trace offering pours of Weller 12, Elmer T. Lee and Blanton's for guests to enjoy while sampling progressive food pairings from Chef Levon Wallace and Chef Mike Wajda. As expected the whiskey was great, but I was caught off guard by how outstanding the food was at the event. It opened my eyes and set the bar for the rest of the week regarding the culinary excellence that would be on display throughout the Bourbon Classic.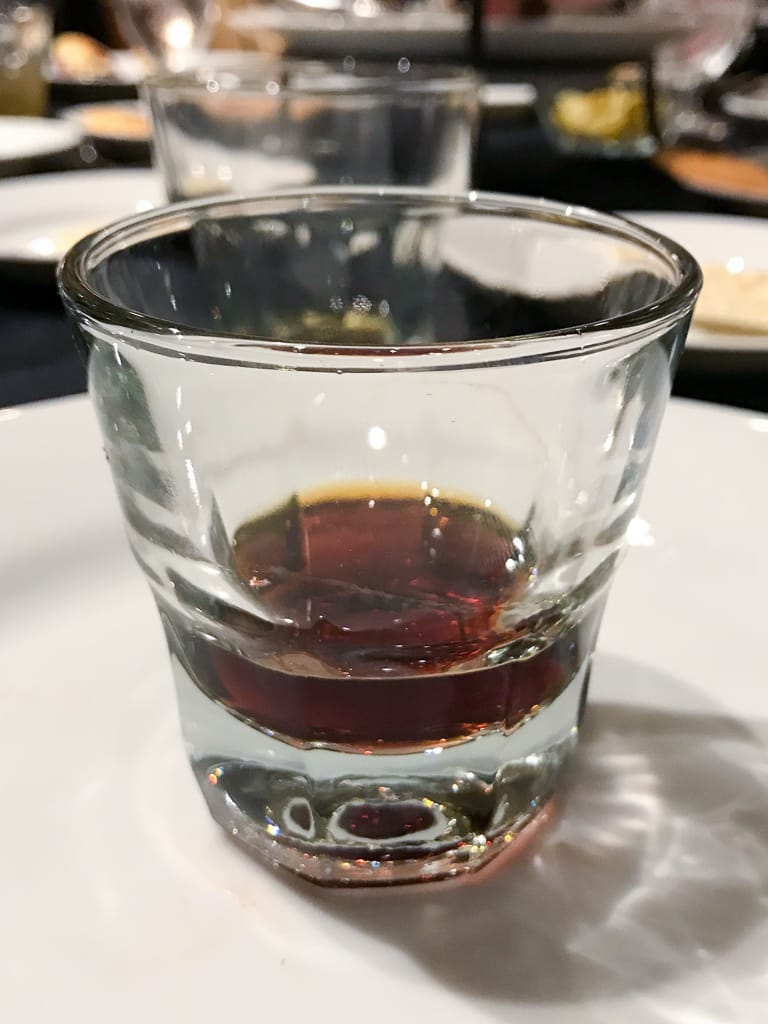 SAVOR: A TASTE OF HISTORY
Thursday evening found us attending a historic event – SAVOR: A Taste of History. I was part of a lucky group of 100 people that had the chance to taste Final Reserve, James Thompson & Brother Bourbon during one of Kentucky's most exclusive tasting events. Final Reserve is a bourbon that aged in the barrel for 45 years and was finally bottled by James "Buddy" Thompson to celebrate his family's contribution to Kentucky and bourbon history. The tasting event and sales of 100 collectible bottles raised almost $250,000 for charity.
But how was the bourbon you ask?
Upon the tip of my tongue, the bourbon was hyper-sweet, almost artificial. But then the sweetness was swept away by a wave of soggy oak that delivered a crushing blow of bitterness and tannins mingled with a healthy dose of sadness.
The bourbon was as you would expect. After 45 years in a barrel, it was dark like coffee. The nose was fantastic – full of rich dark fruits, baking spices, and molasses. There was oak as well, but not overbearing as you would expect. As it turns out, the oak was merely hiding out to make it's grand debut once I tasted the bourbon. Upon the tip of my tongue, the bourbon was hyper-sweet, almost artificial. But then the sweetness was swept away by a wave of soggy oak that delivered a crushing blow of bitterness and tannins mingled with a healthy dose of sadness. The juice was so tannic that despite having liquid in my mouth, it felt as if I was chewing on the Sahara desert. As if that wasn't challenging enough, guests sampled a second glass of the bourbon with the addition of sherry to help balance out the oak flavors. Let me just say that it failed – miserably.
BOURBON CLASSIC COCKTAIL & CULINARY CHALLENGE
Friday night's event was all about "mixing things up" through the exploration of what's classic and contemporary in the world of Bourbon cocktails and small plates. Guests enjoyed nine teams of master bartenders matched with an acclaimed chef and sponsor distillery. Together each team would be competing to with the title of "perfect cocktail" and "perfect small plate."
I'll be honest, I know there was a competition going on, but after sampling the first team's creations, I found myself hypnotized by the stellar food and cocktail pairings and gave up trying to compare one team to another. It was all I could do to force myself to move on to each subsequent team and leave behind what had become my new favorite small plate and cocktail of the night. And did I mention that halfway through the event they reset everything?
Yep, that's right. In the middle of the event, each team removed their "classic" items and replaced them with something "contemporary." It was ridiculous! I gave up on trying to keep things straight and found myself weaving about the event floor chasing down whatever caught my eye. I think I tried everything at least once (I think), but there were some that I "accidentally" sampled 3-4 times because it was so good.
I hear there was an after party that night, but I chose to steer myself back to the hotel and put my well-fed body to bed. There was still another day of the Bourbon Classic to go, and I was not about to let it get the best of me.
BOURBON UNIVERSITY
After a good night's sleep and a short visit to Jeptha Creed Distillery with some friends, I made my way to the Kentucky Center for Performing Arts. My first stop was to take part in Modern Thirst's annual Big Podcast. It was an honor to participate in the podcast and instead of giving you a summary of what we talked about, I invite you to give it a listen here.
After the podcast, the educational component of the Bourbon Classic kicked-off at 4: oo pm. Attendees had a choice of sessions to attend, and I choose the following:
BOURBON, SWEET & SALTY: A KENTUCKY TRIFECTA
Steve Coomes, Author, Cured Ham Aficionado
Kelly Ramsey, Chocolatier, and Owner, Art Eatables
Andrea Wilson, Master of Maturation, Michter's Distillery, LLC
Session Overview: Bourbon's broad range of taste and aroma essences serves to complement flavors and aromas in many types of foods. In this seminar, our experts will demonstrate how well Bourbon pairs with cured ham, local cheese and bourbon-accented candies and cookies. Come taste for yourself and learn how easy it is to conduct a Bourbon and food pairing at home.
To me, this was the session to attend. Bourbon & Banter has been a fan of Kelly Ramsey and Art Eatables for a long time, so we knew it was going be special. But didn't hurt that Steve Coomes was set to drop some cured ham knowledge on us while Andrea Wilson schooled us on the nuances of Michter's whiskey. It was a fantastic sensory experience as we combined ham, cheese, chocolate, and whiskeys in ways that might not have been legal in the state of Kentucky. If you attend next year, make sure to get in line for this session early. Let me leave you with something to ponder from the session:
Blue Cheese + Chocolate + American Whiskey = Shut The Front Door
BOURBON HOT TOPICS
Clay Whittaker, Moderator
Jason Horn, Freelance Writer
Maggie Kimberl, Freelance Writer
Fred Minnick, Bourbon Author
Noah Rothbaum, Daily Beast
Stacie Stewart, Whiskey Dry
Session Overview: Enjoy a discussion between veteran Bourbon journalists and spirits experts as they discuss what's trending in the world of Bourbon.
Heading into this session, I wasn't sure what to expect since I had just spent two days on the media tour bus with several of the panelists. Clay Whittaker did a commendable job moderating and keeping the conversation flowing, as panelists shared their thoughts on a variety of bourbon topics. The crowd enjoyed the on-stage banter, but I left wanting a bit more from the group. It would have been fun for them to share a few more juicy details of life as a whiskey writer and what it takes to track down the hot topic or story. Bourbon has a rich history and colorful past, and I know attendees would have love to hear more of the panelists personal anecdotes related to all things bourbon.
VINTAGE WHISKEY: OLD AND NEW
Session Overview: Come hear the conversation with famed journalist Noah Rothbaum around the new laws permitting Vintage Bourbon tastings and sales. Also featuring bourbon writers/historians Michael Veach and Fred Minnick along with vintage whiskey hunter Brett Connors, Brand Ambassador for Castle & Key
I don't actively hunt down and purchase vintage whiskey, but I'm very familiar with the tricks and methods used by those that do. My pre-existing knowledge made this session a tad bit repetitive for me. All the panelists shared helpful tips and stories about vintage whiskey, but there wasn't anything new for me to learn. I would have appreciated more conversation about the recent changes in Kentucky laws regarding vintage whiskey and how that might affect the availability of old whiskey throughout the country or perhaps how it may set a precedent for other states to adopt similar laws. All that said, others seem to enjoy the panel discussion and hopefully walked out with new knowledge to help them on their hunt for dusty bottles to add to their collection.
BOURBON CLASSIC TASTE
The closing event of the Bourbon Classic was TASTE – billed as a "Bourbon experience like no other!". For those that have attended WhiskyFest or similar whiskey festivals, you would find the format familiar to those. The main difference is in scale and distillery/brand representation. TASTE has fewer brands/distilleries present, and most in attendance are local to Kentucky and therefore, tend to be familiar household names like Four Roses, Buffalo Trace, and Woodford Reserve. Despite the smaller scale and limited brand representation, I found the smaller format more enjoyable since didn't have to spend the evening walking all over the venue to track down my next drink. It made meeting new people and engaging in banter more comfortable and more enjoyable.
And then there was the food. This time the food was presented buffet style but was no less amazing than previous evenings. From massive boiled shrimp and hot grilled chicken sandwiches to pimento cheese spread with pork rinds and carved roast beef, there was something to please everyone. The smaller scale also made getting to the food easier compared to larger scale events. My only critique is that it would have been nice to have more standing tables for people who were in need of a place to set their food while eating.
Since it was the last night of the Bourbon Classic, I made my way to the after party at Milkwood. Chef Edward Lee and his team graciously supplied us with even more food – all fantastic – as we gathered with friends to continue our celebration of bourbon and banter into the wee hours of the morning.
PARTING IS SUCH SWEET SORROW
Never in my life have 3.5 days gone by so fast. I had a blast meeting fellow bourbon lovers, touring distilleries and experiencing everything the Bourbon Classic had to offer. The folks at the Bourbon Review and FSA Management Group should be proud of the event they've created – an authentic mix of the bourbon and culinary worlds. And by no means should this be considered an event for only bourbon lovers. Those that enjoy good food and exploring the world of spirits will find this just as enjoyable, if not more, than those that drink bourbon regularly.
Bourbon & Banter's mission is to help folks #drinkcurious. If you're ready to join us, we invite you to attend next year's Bourbon Classic and explore everything that Kentucky has to offer.
---
Bourbon Classic. We appreciate their willingness to allow us to experience Louisville and The Bourbon Classic with no strings attached.