Belle Meade Bourbon Craftsman Cask Collection: Honey Cask Finish Review
Just as they did with the Mourvèdre wine cask finish I reviewed this year, the Nelson brothers' knack for cask finishing is proven again in this release.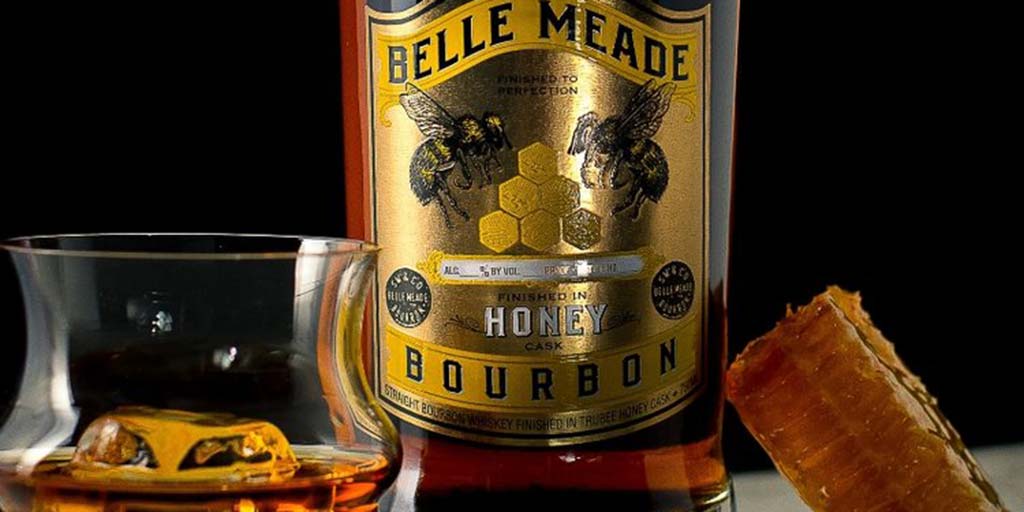 DISTILLER: Nelson's Green Brier Distillery
MASH BILL: MGP's 75% corn, 21% rye, 4% malt
AGE: 8-11 year old bourbon finished in "honey barrels" for for a few months (see background info below for more details on "honey barrels")
YEAR: 2018
PROOF: 113.6 proof (56.8% ABV) or 105.9 proof (52.95% ABV) – two proofs, depending on barrel
MSRP: $120 (sold out – was available at distillery only)
STEVE'S NOTES
---
NOSE: Elegant nose, lush with ripe tropical fruit | stout whiff of alcohol cloaked in cedar and caramelized sugar | roasted pineapple, peaches and hints of jasmine | lingering baking spices, fruit cake and sliced apples
TASTE: Powerful lead of fruit and oak, cherry throat lozenge and honey | toasted oak and lemon verbena fade to honey dew melon | mouthfeel is lightly coating and without weight from honey influence
FINISH: Long, warm, tingly | exhale and get peppermint rounded with cinnamon
SHARE WITH: Any fan of brown spirits and those eager to try them.
WORTH THE PRICE: My 50ml bottle sold me immediately. I'd love a bottle, but they're all gone already.
BOTTLE, BAR OR BUST: Bottle if you can find it, but likely a bar since they're officially sold out.
OVERALL: Just as they did with the Mourvèdre wine cask finish I reviewed this year, the Nelson brothers' knack for cask finishing is proven again in this release. When given a full bottle sample my habit is to sip and make cocktails from the first half, allowing time for the rest of the whiskey to get some air; shortly after that point, I switch back to neat for reviewing, and then cocktails if there's any left. Frankly, I'd be hard pressed to do any cocktailing with this. The supple sweetness picked up from the honey darn near makes it a cocktail on its own. If you can find one, I wager you'll be delighted.
BRAND NOTES
---
TOTAL BOTTLED:  412
PROOF: 113.6 OR 105.9 (TWO PROOFS, DEPENDING ON BARREL)
We are redefining the meaning of the term "Honey Barrel".
In distillery lingo a "honey barrel" is said to be a barrel that produces exceptional flavor qualities. We're taking it to the next level.
For this project we partnered with our friends at Trubee Honey. Check out their story here. They are a fantastic local artisan honey producer dedicated to doing things the right way. We started out by giving Trubee freshly dumped "honey barrels" (traditional meaning) that had aged 10 year old Belle Meade Single Barrel Bourbon. They then filled the barrels with Summer vintage wildflower honey and allowed it to age in the barrel to produce their Barrel Aged Honey. They then emptied these now, quite literal, "honey barrels" and gave them back to us. We then refilled the barrels with our signature high rye blend of Bourbon. For this project we used 8-11 year old Bourbon. We then let the Bourbon rest in these "honey barrels" for a few months until the flavor was just the right balance of whiskey to honey and sweet to strong.
The resulting Bourbon, flavored with real honey in "honey barrels", tastes like no other honey whiskey on the market. The bold and deliciously rich nature of this cask strength Bourbon makes it perfect for sipping neat, on the rocks, or for making a high proof classic cocktail.
We produced only two barrels of this extremely seductive spirit. Price. $120
TASTING NOTES:
Nose: Honey, cinnamon, cedar, caramel and floral accents
Palate: Honey glazed pastry, caramel, orange, and cinnamon.
Finish: Long and pleasant showing honey, cashew. vanilla, and baking spices.
BELLE MEADE HONEY CASK FINISH BOURBON BACKGROUND INFO
A HONEY OF A BOURBON
A SWEET SECOND IN NELSON'S GREEN BRIER DISTILLERY'S 2018 CRAFTSMAN CASK COLLECTION SERIES
In a sweet play on the distilling industry's legendary "honey barrels," those elusive whiskey casks that have been aged to perfection and are almost mythological within the world of whiskey, Nelson's Green Brier Distillery in Nashville, Tennessee is about to issue a limited-release Belle Meade Bourbon Honey Cask Finish. It's their second release of the remarkable Craftsman Cask Collection series, the first of which was an acclaimed Mourvèdre Cask-Finish, shared by owners/whiskey makers Andy and Charlie Nelson in March.
At the distillery, there's a great buzz of anticipation surrounding the Honey Cask Finish, an industry first. Unlike so-called "honey bourbons" that are flavored with added honey, the Honey Cask Finish is aged in barrels that were previously filled with natural honey by the artisan-beekeeping-entrepreneurs at TruBee Honey in Arrington, Tennessee, about 20 miles south of Nashville. Close to 300 bottles (two barrels worth) of the cask-strength Bourbon will be released on May 12 – just in time for Mother's Day. Belle Meade Bourbon Honey Cask Finish will be available for sale only at the distillery in Nashville. Doors open at 11am. The 750mL bottles are $120 and limited to one bottle per customer, per day.
For honey connoisseurs out there: the barrel had been filled with Summer Vintage Raw Wildflower Honey. And here's an important lesson from the distillers, if you're tempted to try this at home: "Honey is hygroscopic, meaning that it attracts water (as opposed to hydrophobic, which would repel water)," explains Andy. "When we got the barrel back from TruBee, the honey had dried out the wood, so the barrel leaked a decent amount when we filled it up with Bourbon. Barrels take a little while to rehydrate, but eventually the moisture swelled the wood back up enough to become a fully sealed container once again."
It's no surprise that this honey-of-a-method yields a sweeter pour; the Nelson brothers suggest serving it neat, on the rocks, or with a splash of water.
---
Disclaimer: Belle Meade Bourbon provided Bourbon & Banter with a sample of their product for this review. We appreciate their willingness to allow us to review their products with no strings attached. Thank you.