Bourbon Weekly Roundup #2
Goodbye 401k: Blue Run's mission to take all of your money continues as they release a $199.99 double-barreled rye whiskey. If you'd like to keep your money, there are plenty of other new releases to explore.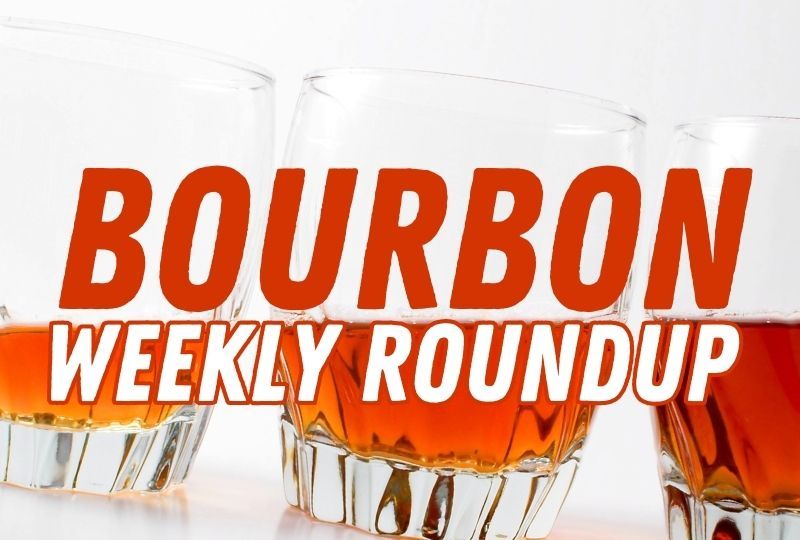 Can you believe it's already been a week since we launched the new design of the Bourbon & Banter website? We hope you're enjoying the new design and platform experience, along with the addition of the invite-only Facebook community. And while all of this change has kept us busy, it hasn't kept the rest of the bourbon industry from moving forward at hyper speed.  We've done our best to capture the highlights for your reading pleasure as we head into the weekend.  We look forward to your feedback in the comments.
In today's email:
Stop the Insanity: Buffalo Trace's new release, Daniel Weller, once again proves that the bourbon doesn't matter.
Goodbye 401k: Blue Run's mission to take all of your money continues as they release a $199.99 double-barreled rye whiskey. If you'd like to keep your money, there are plenty of other new releases to explore.  
Quick Shots: We don't advocate taking shots of actual bourbon, but a few shots of bourbon news are always good to keep the banter alive.
Bourbon Bullshit: Today, we politely discuss the pros and cons of spirit award competitions. Yeah, right. Goggles up, folks, and let 'er rip...
---
BARREL PROOF BUZZ
Do We Need Another Weller Bourbon?
Buffalo Trace's recent announcement of the upcoming release of Daniel Weller bourbon has sparked a passionate debate among bourbon enthusiasts. While it is commendable to honor an American whiskey forefather through an experimental line of wheated bourbons, the pricing strategy for this limited edition release has left many perplexed. With an eye-watering MSRP of $499.99, acquiring one of these coveted bottles may require a significant financial commitment - assuming you can even find a bottle at retail.
It's understandable that such a release generates questions about Buffalo Trace's business practices. Die-hard fans of Weller already face scarcity and inflated prices both in stores and on the secondary market. The introduction of additional expressions like Weller Full Proof and C.Y.P.B. has further fueled demand but at the expense of the core expressions that bourbon lovers have come to cherish. Instead of searching for elusive new Weller releases, enthusiasts would rather see a greater quantity of Weller Special Reserve, Antique, and 12 Year on store shelves.
While Buffalo Trace claims this release is for bourbon drinkers and part of their quest to create the world's best bourbon, the reality paints a different picture. Despite their promises to increase production, consumers have yet to experience any relief. The beloved favorites remain on allocation, leaving many feeling frustrated. In this context, introducing a new expression priced at $500 feels more like an insult than a genuine offering to the bourbon community.
Consumers must voice their concerns and expectations to Buffalo Trace. Instead of perpetuating inflated retailer pricing and offering empty lectures about secondary market purchases, the distillery should address the underlying issue: the inability to meet the demand for their fan-favorite products.
It's time for consumers to let Buffalo Trace know it's time for them to reconsider its approach, to listen to the concerns of bourbon enthusiasts, and prioritize meeting the demand for their core expressions. Doing so can demonstrate a genuine commitment to the community that has supported them throughout the years.
---
FRANKFORT, KY (June 7, 2023) -- Buffalo Trace Distillery is thrilled to announce the launch of Daniel Weller: an experimental line exploring the impact of different strains of wheat on its storied bourbons, inspired by and named after the trailblazer of the Weller family. This exciting release from the original wheated bourbon brand demonstrates Buffalo Trace Distillery's excellence in innovation while honoring a forefather of American whiskey, Daniel Weller – grandfather to William Larue Weller – and the family distilling traditions he passed down to the generations of whiskey pioneers that followed him.
While William Larue (W.L.) Weller's place in whiskey history is widely known as one of the first to sell a "wheated" bourbon in Kentucky, his grandfather's story has yet to be shared. After fighting in The Revolutionary War, Daniel Weller embarked on a flatboat voyage down the Ohio River with his wife and children, ultimately settling in Kentucky in 1794. Following in his father Johannes Weller's footsteps, who distilled rye whiskey used as currency in early American barter economy, he soon began producing whiskey and leased his still to proprietors like Jacob Hirsch to supplement his income.
When Daniel passed away in 1807, he left no will, requiring his son Samuel to purchase his stills and equipment to continue the family legacy, which he would ultimately pass down to his son William Larue, founder of W.L. Weller & Sons.
The Daniel Weller experimental line is inspired by Daniel and his pioneering spirit, with plans to release one limited expression every other year, when each experiment is deemed ready for bottling by Master Distiller Harlen Wheatley. The inaugural release is made with Emmer wheat, an ancient Egyptian grain that's rarely seen in modern-day stills, and mainly used to make beer and bread. Archaeologists have found evidence of Emmer wheat domestication over 6,000 years ago, and its symbol is etched into the Egyptian pyramids.
"We began this experiment to see how one of the original, long-forgotten wheat strains would taste in our wheated bourbon," says Harlen Wheatley, Buffalo Trace Master Distiller. "We've found it offers just a slightly – yet delightfully – different taste that brings us into a new bourbon territory. It will taste like Weller, but with distinct, unique notes that make it stand apart from the other Weller whiskies we've released to date."
The mashbill is not the only variable in this experiment. It was distilled in the E.H. Taylor, Jr. Microstill, named after the father of the modern bourbon industry, which Harlen spent two years custom-designing. A combination pot and column still, the Microstill is both versatile and innovative, allowing the team to experiment with very small batches without interrupting main production capabilities.
Aged for nearly 12 years, Daniel Weller Emmer Wheat is bottled at 94 proof. The nose is fresh and nutty, with notes of orange zest, hazelnut, cinnamon and caramel; the palate a well-rounded blend of bold oak, sweet honey and orchard fruits with a complex oak-forward finish complemented by baking spice and leather notes.
"At Buffalo Trace Distillery, we are appreciative that many of our brands have found a place in whiskey culture and we continue to invest in making more whiskey to meet the demand. However, our motto is 'Honor Tradition, Embrace Change' because we believe the world's best whiskey has not yet been created," says Andrew Duncan, Global Brand Director for Buffalo Trace Distillery. "We will continue to experiment with multiple variables that affect the final taste profile – grains, techniques, aging, barrels, and more – in pursuit of that ultimate goal. When an experiment 'graduates' to be released under a beloved brand like Weller, it's a reflection of our confidence in the whiskey."
In homage to Daniel's pioneering journey, each release from the Daniel Weller series is packaged in a clear 750ml glass bottle with a unique compass stopper. Once opened, underneath the stopper one will find the coordinates pinpointing the location of Daniel's farm near Botland, KY.
Daniel Weller Emmer Wheat will be rolling out in limited quantities to its distributor network,  which will ship to select retailers, bars and restaurants across the United States as of June 2023 at a suggested retail price of $499.99 (750ml); state taxes will vary per market. It joins the Weller lineup of Weller Special Reserve, Weller Antique 107, Weller 12 Year Old, Weller Full Proof, Weller C.Y.P.B. ("Craft Your Perfect Bourbon"), and Weller Single Barrel as well as William Larue Weller, which is released each fall as part of the Buffalo Trace Antique Collection.
For more information, please visit https://www.buffalotracedistillery.com/our-brands/w-l-weller/daniel-weller.html.
---
For me, the question has been answered. The world doesn't need any more Weller expressions.
Let us know what you think in the comments.
  ~ Pops
---
NEW BOURBON RELEASES
Here are a few new releases that have crossed our desk recently.
Blue Run Spirits Releases Single Barrel Double Oak Rye Whiskey for Father's Day
Bardstown Bourbon Company to Release Discovery #10
Woodford Reserve Releases Limited-Edition Batch Proof Series
Pursuit Spirits Re-releases Oak Collection Toasted Bourbon
Chattanooga Whiskey Bottled in Bond: Spring 2019 Vintage
The Detroit News partners with Detroit City Distillery on limited-edition single-barrel bourbon for charities
Fireball Whisky and Rob Riggle Bring the Heat to Father's Day with Fireball Dragon Reserve
---
QUICK SHOTS
Quick hits of random and interesting news for you to keep yourself entertained when standing in line to buy the next limited-release bourbon.
No ID, No Problem: Showing ID to buy a beer could be a thing of the past soon - Amazon is launching a way for drinkers to buy alcohol with a simple swipe of their hand, eliminating the need for identification.
Move over Scotch snobs: It didn't happen overnight, but Indian craft whisky has been making steady strides, and for many, Indian single malt is now 'the good stuff.
How about the odds? A state-run lottery to give Virginians first dibs on pricey whiskeys suffered from what was likely a human-induced flaw that wildly skewed the results, allowing several lucky participants to win multiple times.
Tequila Title Fight: Sean "Diddy" Combs sued Diageo, alleging that the spirits company has neglected the DeLeón tequila brand it co-owns with the music mogul. At the same time, the lawsuit says, Diageo has poured resources into two other tequilas, including Casamigos, the George Clooney-backed brand that Diageo agreed to buy in 2017 for up to $1 billion.
Darwin at work: A Chinese social media influencer died less than 12 hours after consuming seven bottles of Baijiu, known as 'Chinese vodka', during a live stream on Douyin, China's version of TikTok, CNN reported.
---
BOOZE MEDIA SPOTLIGHT

The House of Suntory celebrates 100 Years of Pioneering Japanese Spirit with the unveiling of a tribute film directed by Sofia Coppola called "Suntory Time" starring Keanu Reeves, as well as the teaser for an upcoming docu-series "The Nature and Spirit of Japan" starring Keanu and directed by Sofia's brother Roman Coppola. The House also announces the releases of two new 18-year-old Yamazaki and Hakushu Single Malt whiskies, created by 5th Generation Chief Blender Shinji Fukuyo.
Founder Shinjiro Torii established Yamazaki Distillery in 1923, ushering in Japan's new era of whisky-making. As the country's very first and oldest malt whisky distillery, the Yamazaki Distillery has a storied history that is captured in the 2023 limited release of the new Yamazaki 18-Year Old Mizunara, a single malt Japanese whisky aged exclusively in rare Mizunara oak casks (SRP $1,500; 48% ABV; 700ml). The classic Yamazaki 12-Year-Old is clad in limited-edition celebratory packaging for the 100th anniversary. It is designed as an homage to "Monozukuri" craftsmanship— a Japanese principle that embodies elevated artisanship, relentless pursuit of quality, ingenuity and expressiveness (SRP $185; 43% ABV; 750ml).
The House of Suntory's limited-edition Hakushu 18-Year-Old Peated Malt released for the centennial is comprised of meticulously selected malt whiskies all aged for a minimum of 18 years (SRP $1,200; 48% ABV; 700ml). Nestled deep in Mt. Kaikomagatake, the Second-Generation Master Blender, Keizo Saji, founded the Hakushu Distillery in 1973. Its blenders accepted the challenge of working with peat - a daring move made possible thanks to the area's unique terroir, climate and exceptional mountain water (filtered through granite rocks), which together soften the whisky's signature smoky taste. The flagship Hakushu 12 Year Old, is also clad in limited-edition celebratory packaging for the 100th anniversary (SRP $185; 43% ABV; 750ml).
All bottlings will be available this month in select global markets within the United States, United Kingdom, Europe and Asia.
---
IT'S 5 0'CLOCK HERE COCKTAIL SERIES
Are you cocktail curious? Join our Cocktail Editor Erin Petrey on a journey through the wide world of cocktails and mixology. Learn how to make old classics, new favorites, and a few custom creations of her own.
---
FOR THE CURIOUS DRINKER
Tidbits and tipples from beyond the world of bourbon to help you lead a #DrinkCurious lifestyle.
ABERFELDY 15 Years Old Limited Edition Finished in Red Wine Casks
Teeling Launches Wonder of Wood Single Pot Still Second Edition
Bladnoch launches The Dragon Series
Herradura gets $200m distillery expansion
---
BOURBON BULLSHIT
Blunt and unfiltered commentary calling out some of the biggest bullshit stories happening in the booze industry.
As a long-time reader, you know that Bourbon & Banter has never been a big fan of spirits award competitions. We've discussed our gripes with them on our podcast and during our Bourbon Bullshit Live sessions. So when the ASCOT Awards started bombarding us with press releases this week, we had to take cover to avoid being buried under a mountain of BS. But hey, even though we're not big fans, we get it. These competitions can really make a difference for up-and-coming brands trying to make it on a national scale. And if winning an award helps those brands with great whiskey get their business off the ground, that's awesome. We genuinely feel happy for them.
But here's what really gets under our skin: it seems like almost everyone who enters these competitions walks away with an award. According to their press release, the ASCOT Awards received a whopping 1,100 entries this year. That's a mind-boggling $522,500 in entry fee revebye (if we only count the spirits entries). And get this, based on what they've published on their website, around 73% of those entries scored a Gold, Platinum, or Double Platinum award. They don't spill the beans on who gets an "Honorable Mention," but we suspect that's where the remaining 27% fall on the judging scale. I mean, come on! How can you call it a competition when it feels like everyone's a winner?
And let's not forget how they moved the goalpost by introducing the Double Platinum category and getting rid of Silver, thereby inflating the value of the awards given. It makes you wonder just how credible these final awards really are.
Look, we know we might come off as a little biased and grouchy about this whole thing, even though we understand that brands find value in these competitions, and plenty of consumers rely on them to make purchasing decisions. But that doesn't mean we're wrong. As a website that's been dishing out reviews and opinions for over 12 years, we know firsthand that your personal taste is what matters most—way more than any fancy award or review. So go ahead and share your thoughts on spirits competitions in the comments, but promise us one thing: keep exploring and enjoying different whiskeys, regardless of the shiny awards they may or may not have won this year. Cheers to drinking curiously!
WANT MORE BOURBON BULLSHIT?
Listen to the official Bourbon & Banter podcast for the largest and most honest bourbon podcast in the galaxy. We've got whiskey news, new release info, the Craft Shoot, and more bourbon bullshit than you can carry in the semi used by Brad Paisley to haul his bourbon around the country.
---