When It Comes To Bourbon: You Can't Always Get What You Want
You know the feeling. You hear from a buddy that ABC Liquor store got a case of Elmer T Lee. You drop what you are doing and rush to the store. Walking in you notice someone walking out with a square bottle in a brown paper bag.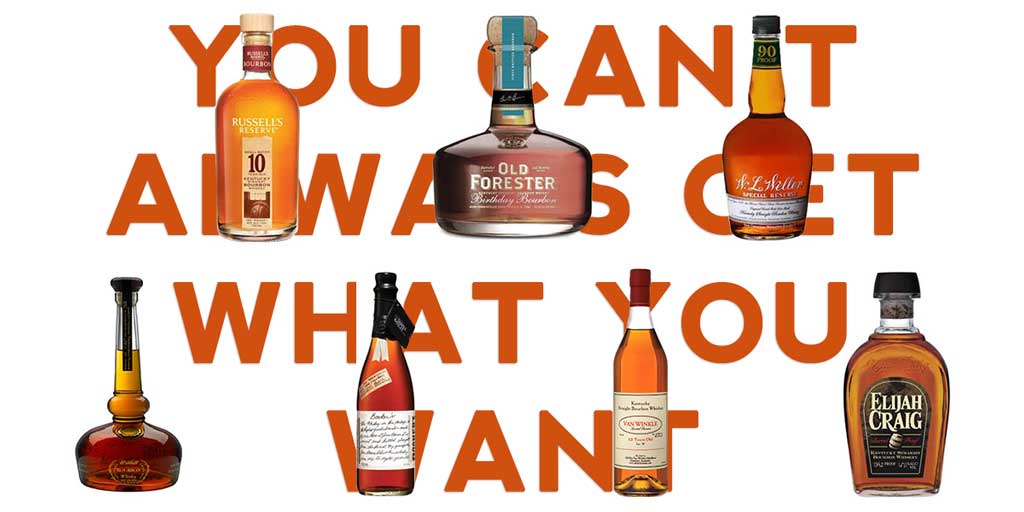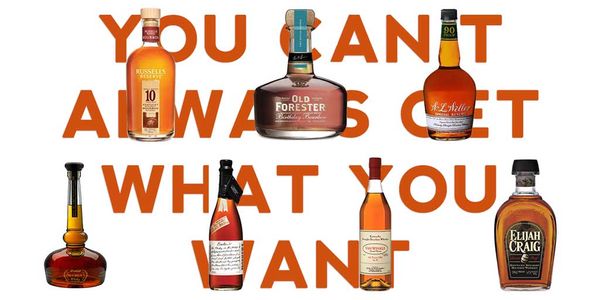 You know the feeling. You hear from a buddy that ABC Liquor store got a case of Elmer T Lee. You drop what you are doing and rush to the store. Walking in you notice someone walking out with a square bottle in a brown paper bag. Your heart sinks a little. Can't be the last one. You find the bourbon section and start scanning, hoping. Who the hell organized these shelves?!? Why is there Jameson between a bottle of Knob Creek and Basil Hayden's?!? You scan the shelves as your hope slowly fades. You walk quickly to the counter hoping to get a little help. The friendly clerk knows your dilemma but isn't sure if there are any left. They check the computer inventory and it shows 1 bottle! But where is it? It's not on the shelf and not in the office. Must've sold out, sorry.
Just a day in the life of the present-day Bourbon Hunter. The only thing worse than not finding the bottle is finding one and discovering that capitalism is alive and well. I recently found a bottle of Elmer T Lee (it is that good) and paid $45. A reasonable sum considering what people are asking for far inferior bourbon but still quite a bit higher than its normal asking price. Most places charged $32-35 as recently as last year. A friend in WI recently saw a Pappy 10 on the shelf listed for $300, cash only. Ouch.
So if you aren't able to scour the earth for the great bourbons or are too sound of mind and spirit to be put over a barrel to get them, I have a few suggestions. I've put together a list of a few hard to get bottles and a couple of suggestions on what to try instead. The 1A is a little easier to get but admittedly sometimes still difficult. 1B should be bourbon available to most/all with relative ease.
PAPPY VAN WINKLE (10-12 YEAR)
There are a number of blog posts telling you what to drink if you can't get Pappy so I will keep this short. It also seemed impossible to write this article and not offer suggestions.
1A – Old Forrester Birthday Bourbon. I hate to even write about this bourbon. It is not easy to get but I've managed a few bottles. There are a lot of bourbon drinkers who have yet to discover it. Aged 12 years and only released once per year. Its' the best of the Old Forrester offerings by a mile.
1B – WL Weller Special Reserve. It's known as a Baby Pappy for good reason. It's a wheat bourbon, easy to drink and relatively easy to find. Most places price it around $25/bottle so something you can drink guilt free.
GEORGE T STAGG
The easy suggestion and the one that most people would give would be to buy Stagg Jr. But, Pops tasted it for a review post and would disagree. George T. Stagg weighs in at around 140 proof most years so you need something with quite a bit of heat to even be considered as an alternative.  Here are my suggestions:
1A – Elijah Craig Barrel Proof. Not impossible to get but not easy. Make friends at the right liquor store and you can secure a bottle. $50-60 bottle and you won't be disappointed.
1B – Bookers. Another higher proof bourbon that doesn't overpower. This can be found just about anywhere for $40-50.
ELIJAH CRAIG 18
Another on the long list of great's that used to be cheap ($50) and relatively easy to get. EC18 was temporarily suspended in 2012 when Heaven Hill launched a 20-year-old at a new price point citing a lack of supply to meet demand. Not surprising since most bourbon drinkers considered this to be the gold standard of value. They announced late last year that they will be relaunching the 18-year at an MSRP of $120. Even at this new price it has become nearly impossible to find.
1A – Willett Pot Still Bourbon. I know it's sourced. That doesn't stop me from enjoying this regularly. Although there is no age statement it's generally believed to be 8-10 years old and I believe it. Most places carry it and it's in the minority of producers who make a large format bottle. $40ish a bottle isn't a killer and the bottle itself is one of the coolest designs in bourbon.
1B – Russell's Reserve Small Batch 10. I don't think a list like this would be complete without at least one mention of something that Jimmy Russell has been involved with. He's been making bourbon for 60 years and isn't capitalizing on the boom by selling crap or spending big money on marketing. He aged his great stuff a little longer and is selling it at a reasonable price. In a recent interview he admitted to investing $100M into additional capacity and laying down a lot of bourbon for at least 8 years. That should be rewarded.
So many options and unfortunately, so many good bourbons that have become difficult to acquire. I'm sure you are thinking, "what about the older Pappy, what about the rest of the BTAC?". Let's take it to the comments section for now and we can maybe make this a running idea for Bourbon and Banter. Happy Hunting!