Introducing Habondia Peach Brandy
Habondia Peach Brandy is aged for six months in a white wine barrel, then for thirty months in a used, medium-toasted Missouri white oak barrel, for three years aging. As with the fresh ginger used for The Big O, the fresh peaches used are hand-chopped on-site at the distillery.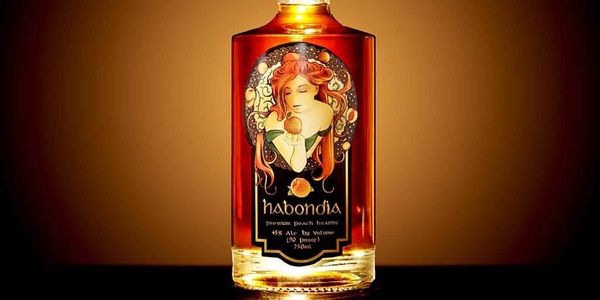 The past couple months of St. Louis weather have been typical:  warm, then unbearable, then pleasant, then a downpour, then more humid, all in the span of 4 days.  But every few weeks, the stars align, and the weather cooperates at just the right moment to allow for a magnificent evening.
Such was the case a few weeks ago for an advance preview of Habondia Peach Brandy, a new expression from the folks behind The Big O Ginger Liqueur.  Billy Foster, Kathy Kuper, and their son Chris Foster teamed with Crown Valley Distillery's master distiller Scott Eckl to produce a pure fruit brandy made with fresh, organic, Missouri peaches (grown on-site at the distillery) and sparkling wine yeast.  Prior to the public launch of Habondia, Pops and I were invited to a preview tasting with a select group of St. Louis-based food and spirit writers.
Although the previous day had been somewhat dreary, by the time this intimate event rolled around the light rain had stopped, the weather had cooled, and a beautiful evening presented itself.  Upon arrival, guests were treated to a champagne cocktail featuring The Big O Reserve (Big O Ginger Liqueur aged in a rye whiskey barrel), a selection of charcuterie, and an absolutely delightful fresh peach galette, handmade by Bill Foster himself.  For anyone that knows Foster, this is no surprise.  In addition to being one of the forces behind a delightful ginger liqueur, he is an accomplished home chef.
The lovely private home chosen for this event featured a gorgeous, original poster for Habondia (the goddess of abundance) displayed in the entryway, alongside a handful of bottles bearing the new spirit, but different artwork.  For those familiar with The Big O, the Habondia label is similar in that it is breathtakingly beautiful.  Kudos to Chris Foster for conceiving such enchanting artwork.  After enjoying the opening cocktail, and with the weather cooperating, guests were lead to a fantastic outdoor space to hear more from Foster and Eckl, and to experience their new peach brandy.
To say Bill Foster has a way with words would be an insult to both him and words.  Foster is one of the most engaging people I have ever met.  He went into detail on how an early visit to a local bar when they had just launched The Big O led to a conversation with the bartender on peach brandy.  He had always been a fan of peaches, and at the urging of the bartender, decided to start experimenting with it.  After multiple failures on his own, Foster then enlisted Scott Eckl's help at Crown Valley Distillery and together, they also came up short initially in producing what Foster was looking for: the essence of peach in all aspects of the brandy, from nose to palate to finish.  It took several years but was well worth the wait.
Although Foster has an incredible ability to paint a vivid picture with his words, you do not get the feeling that anything is untrue or exaggerated.  At a time when grandiose tales about spirit origins happen regularly, it is refreshing to hear a story like the one Foster tells.  "We will not put anything in a bottle that we don't believe is the very best we can possibly produce."  No one in attendance would question this.
We were presented with Glencairns containing the brandy in advance of Foster's speech.  I took the opportunity to nose while he talked, breathing in a luscious blend of fresh peaches, cinnamon, golden raisins, and vanilla.  As it first hit my tongue, I was greeted by a rush of the cinnamon, then fresh peaches and a little more of the golden raisin from the nose.  Adding a drop of water brought out the cinnamon on the nose and the caramel on the palate.  The finish brought more cinnamon, then faded to peach ring candy and a burst of fresh peaches at the end, which was quite remarkable.  After swallowing, I was still getting that delicious, fresh peach.  The finish was what Foster and Eckl had been tinkering with, as first incarnations had been very hot.  They finally were able to remove the heat and bring out the peaches, at which point they knew they had what they were looking for.  Nosing the empty glass, I was hit with another big burst of fresh peaches.
Pairing the brandy with Foster's fresh made peach galette with almond cream, under a beautiful night sky with good company and lively banter, and you couldn't ask for a better evening.
HABONDIA PEACH BRANDY DETAILS
Habondia Peach Brandy is aged for six months in a white wine barrel, then for thirty months in a used, medium-toasted Missouri white oak barrel, for three years aging.  As with the fresh ginger used for The Big O, the fresh peaches used are hand-chopped on-site at the distillery.  Instead of distilling just the fruit wine, the entire peach mash is distilled.  The only part of the peach that is unused is the pit.  Bottled at 90 proof, this first incarnation is a single barrel distilled from one ton of fresh peaches, producing 194 bottles.  MSRP is $75 for a 750ml bottle that is presented in a branded wooden box.
This will be an annual limited release in the fall, with yields projected to be 190-225 bottles in 2019, 380-450 bottles in 2020, and 1200-1300 bottles in 2021.
For now, the release will be in Missouri only, with a tasting/launch event at The Wine & Cheese Place (7435 Forsyth Blvd, Clayton, MO 63105) on October 5, 2018, from 4-7pm.  A select number of bottles will also be available via their online site (buy online here).
---
Disclaimer: Habondia provided Bourbon & Banter with samples of their product for this review. We appreciate their willingness to allow us to review their products with no strings attached. Thank you.