Introducing Our New Bourbon & Banter Team Members
All of us at Bourbon & Banter are thrilled to welcome our newest round of Guest Contributors. We invite you to learn more about them below and offer them a hearty congratulations for becoming part of our team.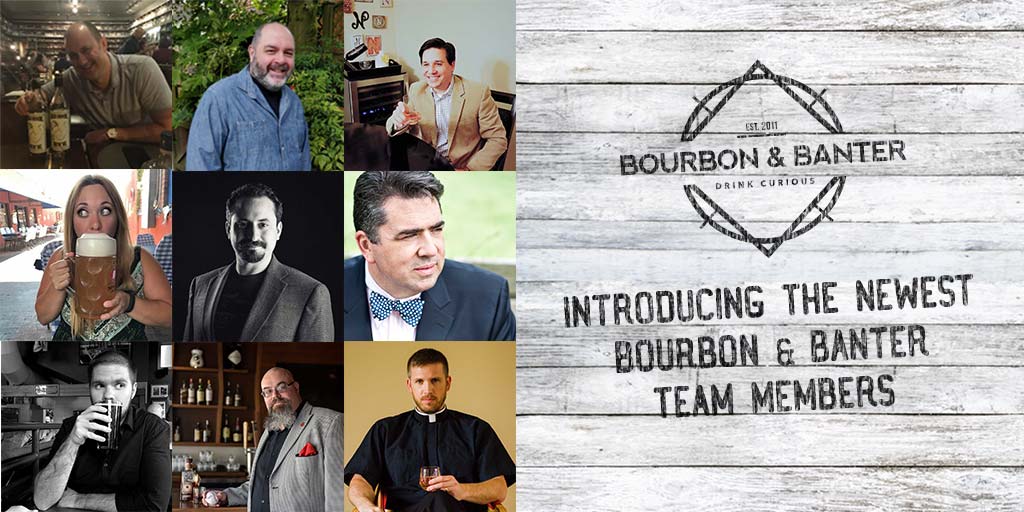 Back in December we posted Help Wanted: Seeking Booze Evangelists Worldwide and the response was phenomenal. We received almost 100 responses from folks looking to become part of the Bourbon & Banter team. Out of those 100 we invited 60 to submit a trial blog post which resulted in 46 posts submitted for consideration. After nearly four months of sharing those posts with your we've come to the end of the recruitment process with the introduction of nine new contributors.
All of us at Bourbon & Banter are thrilled to welcome our newest round of Guest Contributors. We invite you to learn more about them below and offer them a hearty congratulations for becoming part of our team. We're looking forward to having them on our team as we continue our work to help folks #DrinkCurious.
BOB BENNETT
The fifteen months Bob Bennett spent living in Lebanon, KY, as a child may have laid the groundwork for what would happen years later (something in the water…literally).  Originally from Corning, NY, he grew up in a household where happy hour was celebrated every night.  Surprisingly, Bennett didn't start drinking until he was 23 years old.  He quickly made up for lost time, gravitating to bourbon as his preferred libation immediately, and proudly filled the bar that was passed down from his father.  In the years that followed, not only did he develop a deeper appreciation for bourbon, but began to cherish the opportunity to talk about the spirit he has grown to love.  As the Artistic Director for Jazz St. Louis, Bennett has become the unofficial bourbon ambassador of jazz, spreading the gospel of good taste to musicians everywhere.  It also helps endear him to the St. Louis community, which is needed, as bleeding Dodger Blue tends to rub those Cardinal fans the wrong way.
AMANDA DUFFER
Although she was raised in the backwoods of the Appalachian mountains of Eastern Tennessee, Amanda has always had a passion for fine food and drinks. She attended culinary school after high school so that she had the perfect excuse to eat in class all day long. The culinary school didn't quite work out as planned, and now Amanda gets to eat and drink fine things as a hobby instead of as a career. Amanda met her husband Drew at a college dive bar where she was bartending. Willie Nelson says that you marry what you need and he obviously needed someone who could pour a strong cocktail. Now they spend their time lounging in the sunshine bliss of Phoenix, Arizona with their 3 kiddos. You can find them perusing local liquor stores and looking for the perfect cocktail to pair with their meals or checking out the local restaurants, food festivals, and farmers markets searching for the next great find in the culinary world.
SHAWN JACKSON
Shawn was born and raised in Houston but followed his wife to Nashville where they spent a wonderful and exciting decade. It was there that Shawn established his photography company, Sundel Perry, which was focused primarily on serving the music business. While living in Nashville, he fell in love with bourbon and co-founded a club in 2010 called The Bourbon Trust with some of his neighbors and friends. He orchestrated several barrel picks for the group from different distilleries before returning to Houston in 2015 and has been there since. In addition to drinking, talking about, and writing about bourbon, he loves capturing the visual beauty of bourbon in photos. His wife and his two young daughters are all very supportive of his bourbon obsession. For now.
PAUL NEEDHAM
A self-made whiskey drinker, Paul's first foray into the world he now calls home began with a resolution he made to himself on his 25th birthday: Give America's National Spirit an honest chance. A few months later, Bourbon had risen to the challenge and ignited a love affair that lasts to this day. In addition to being a husband, father-of-two, sports fan, and amateur woodworker, Paul's interests now include Irish, Canadian, Japanese and Scotch whiskies as well. As a well-rounded whiskey-lover, he firmly believes that there is a whisk(e)y out there for everyone and for every occasion. A life-long educator, Paul loves the opportunity to learn and to teach as he explores the ever-changing world of whiskey. Fellow travelers who are willing to trade tasting notes with an open mind are always welcome on the journey!
MARK CASEY
Mark likes any drink that's been aged in a barrel. You can put almost anything into a barrel, new or used, and it will come out infinitely more delicious on the other side. Mark has traveled the world trying to disprove this theory, but happily, he never has. Bourbon, beer, tequila, rum—it's true across the board. Once he put a gallon of water in a used Pappy Van Winkle barrel and aged it in his garage. A month later, that water had turned into some of the most delicious bourbon you'll ever taste. It really is magic. Mark is always traveling, but calls southern Indiana home. When he's not making trips into Kentucky bourbon country, he's traveling to more far flung places, always on the hunt for his next great drink.
CURT MCADAMS
Curt has a love for things that taste good, starting in barbecue competitions, then moving to teaching cooking classes, writing a food blog and writing for national grilling-related companies, and, currently, as a regular on a local news show in SW Ohio doing food segments (for which he's become known for his use of bourbon in food). In fact, when interviewed about his top five cooking ingredients, bourbon was included in that list. Curt's love of whisky goes back years, but, more recently, his wife encouraged him to have more than one partially filled bottle of Lagavulin by buying an Ardbeg for him for Christmas, then letting him add more and more to his collection. Now amassing a pretty nice little group of Scotch, bourbon and ryes (and a few other whiskeys here and there), Curt enjoys his whiskey mostly with nothing but a couple drops of water (but is fine with a whiskey cocktail now and then, too). Curt's feeling is that you don't have to like the same whisky he likes, but he hopes you enjoy yours as much as he's enjoying whichever is currently in his glass.
REVEREND CHRIS THOMA
Reverend Christopher I. Thoma is a husband, father, author, and Lutheran Church—Missouri Synod pastor serving a congregation in Michigan. Somewhat of a world traveler in former years, having spent several summers visiting and teaching in Russia, his journey into the borderlands of whisky began during a return-flight layover in London. It was there that a kindly shop owner convinced him to consider whisky's vastness while the two gentlemen shared together in a few of the establishment's finer editions. Since then, the Reverend has become convinced that there are few things in his life that he truly loves. His wife and children most certainly hold such a station. And yet, whisky has become one of those few things that he appreciates enough to call to it with regularity across the chasm between love and enjoyment. He loves it. Again, not as he loves his wife and children. But still, he loves it and has granted to it a most prominent place in his life. Oh yeah, and Reverend Thoma is allergic to sharks, has a 4th degree black belt in Monopoly, is bored by scary movies, and drives a Jeep Wrangler he wishes was the Millennium Falcon.
STELIOS ELIADES
Stelios was born and raised in London, England. He has been in the liquor trade for over 20 years and is willing to taste anything. From the sublime; obviously van Winkle, to the ridiculous, Feni!
MATT WATSON
A long time whiskey lover, Matt evolved from shots of Jameson and Makers & Cokes at the bar, to sipping neat bourbons and ryes.  He enjoys the subtle differences from barrel to barrel and sees whiskey as one of life's great adventures.  Every bottle has the potential to send you down a new rabbit hole. Matt was born and raised in Metro Detroit.  After graduating from the University of Michigan and coaching a decade of High School swimming, he relocated to "Beer City USA" (Grand Rapids, Michigan).  Matt lives with his wife and two daughters and runs a business teaching kids how to swim.  In his spare time he enjoys golf, crossfit, and bourbon hunting.