Michter's 10 Year Single Barrel Bourbon Review – 2020 Release
Michter's has treated me to the past several releases of this 10-year bourbon, and all were good, well-mannered and delicious. Crucial to my preferences, each also paired amazingly well with food. But the 2020 release is something truly special, my favorite of the lot so far. Warm chocolate gives wa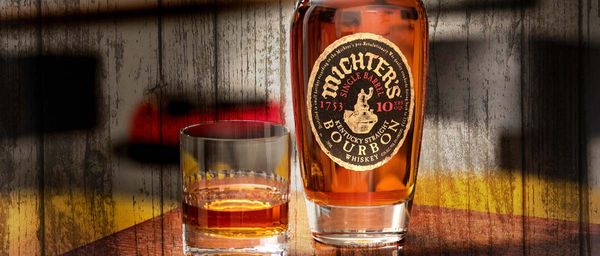 BOTTLE DETAILS
---
DISTILLER: Bottled by Michter's Distillery. Whiskey is contract distilled per Michter's mash bill and instructions, while Michter's is distilling their own whiskey for future release.
MASH BILL: Undisclosed
Cooperage: Fire charred, new American white oak barrels
AGE: 10 years
YEAR: 2020
PROOF: 94.4 Proof (47.2% ABV)
MSRP: $130.00
SEARCH ONLINE: Wine-Searcher.com
STEVE'S NOTES
---
NOSE: Hot Cocoa | Orange-Chocolate | Caramel Apple
TASTE: Warm Chocolate | Dark Caramel | Nougat | Maple Syrup
FINISH: Warm and lengthy and minimally dry. Makes you want to sip more.
SHARE WITH: Everyone you know who loves good bourbon and is worth sharing expensive whiskey with.
WORTH THE PRICE: Sure. It's a splurge for most, but it's delightful.
BOTTLE, BAR OR BUST: Bottle. But buy it and shelve it behind lesser bottles to keep from visitors who don't bring good stuff—or any whiskey at all. Only whiskey friends deserve this.
OVERALL: Michter's has treated me to the past several releases of this 10-year bourbon, and all were good, well-mannered and delicious. Crucial to my preferences, each also paired amazingly well with food. But the 2020 release is something truly special, my favorite of the lot so far. Warm chocolate gives way to supple oak blending with corn sweetness and softness. Yet this is more robust than in releases past and reminds me of a straight-from-the-barrel glass fill I had at Michter's Distillery two years ago with a press group. The mouthfeel is amazing: an adult candy bar in a glass; fully creamy and mouth coating. This is supremely delicious liquid deserving quiet contemplation or sharing with deserving whiskey buddies.
POPS' NOTES
---
NOSE: Buttered Toffee  |  Cedar  |  Orange Spice
TASTE: Sweet Charred Oak  |  Caramel  |  Mint
FINISH: Medium and well balanced. The wood sweetness fades away (almost) leaving a light and unexpected mix of vanilla and mint.
SHARE WITH: This is a bourbon for those that know whiskey and love a good challenge when trying something new and limited.
WORTH THE PRICE: For those that prefer a sweet oak profile this is worth the price.
BOTTLE, BAR OR BUST: See above. If you like a sweet oak profile, you'll want to grab a bottle. All others should try it at a friend's house or bar if they're open in your area.
OVERALL: I've had several of the past few year's release of Michter's 10 Year Bourbon and I've really enjoyed them. This year's release has a delightful nose but it didn't wow me on the palate like it has in years past.
It has a very sweet charred oak note that simply doesn't align with what I look for in a bourbon. I don't remember it being so prevalent in previous releases so either it's something new this year or my palate is shifting - which it tends to do every few years.
It remains a well made and balanced whiskey but the sweet charred oak flavors and the presence of a totally unexpected minty note means it's not something that I would buy another bottle of this year. I'll hold out for next year's release hoping that it will return to what I remember loving about it in years gone by.
BRAND NOTES
---
Mature in age and truly exceptional in quality, Michter's 10 Year Single Barrel Kentucky Straight Bourbon has earned its place as an enduring favorite of the most discerning whiskey connoisseurs. The "Best American Whiskey" according to Food & Wine magazine, our 10 Year Single Barrel Bourbon represents the culmination of over a decade of patient aging in specially chosen, new charred American white oak barrels.
TASTE: Big, bold, dark toffee and caramel, charred oak, maple syrup and vanilla.
---
Disclaimer: Michter's provided Bourbon & Banter with a sample of their product for this review. We appreciate their willingness to allow us to review their products with no strings attached. Thank you.