New Angel's Envy Cask Strength Rye and Bourbon are the Brand's Best Bottles
The nose leads with grape candy, Concord jelly, purple iris bloom, confectioner's sugar, blooming roses and toasted raisin bread. Ever had a whiskey you could nose and nose and nose? This is one of those.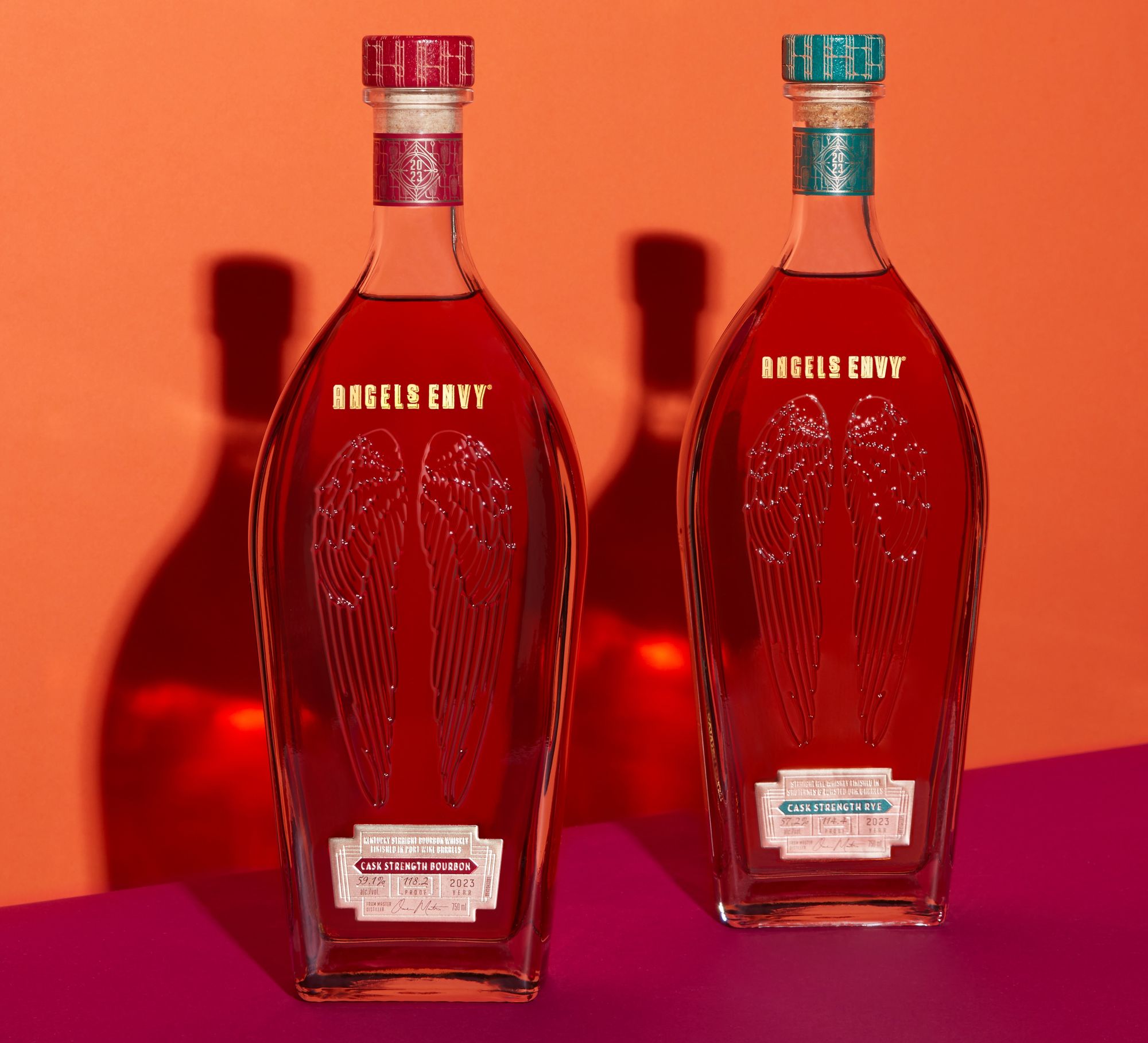 Angel's Envy's Newest releases—a new cask strength rye and its annual cask strength bourbon coming to market December 1—are arguably its best whiskeys ever.
Yep. I said it and I'll stand by it. Both are dynamite and deserving of praise as much as the man who blended them, Owen Martin, who was made master distiller there last year.
I've always liked the Henderson family, who founded Angel's Envy. Great guys and hard-working visionaries who built a great business. (Founder and patriarch, Lincoln Henderson, died in 2013, and his son, Wes Henderson, retired almost two years ago. His eldest son, Kyle Henderson, left earlier this year to join Wes in a new venture in Versailles, Ky.) But I've always considered Angel's Envy's flagship bourbon flagship soft and lacking depth and complexity. But since those are characteristics lots of bourbon fans clearly prefer, give credit the Hendersons for hitting that sweet spot and making their brand a hit in short order. Its elegant packaging surely helped, and the distillery and visitor center behind it all—nothing short of gorgeous—only deepens fan loyalty. All good stuff.
But now we have the all-new Angel's Envy Cask Strength Rye and Angel's Cask Strength Bourbon (the latest in a long line of annual releases), both blended by Martin. And they're liquid epiphanies into what happens when an expert blender gets to apply his deep experience to an array of used barrels and whiskey ages to capture deliciousness in a bottle.
"Cask finishing is as much about blending as finishing," said Martin, during a September press event in Louisville.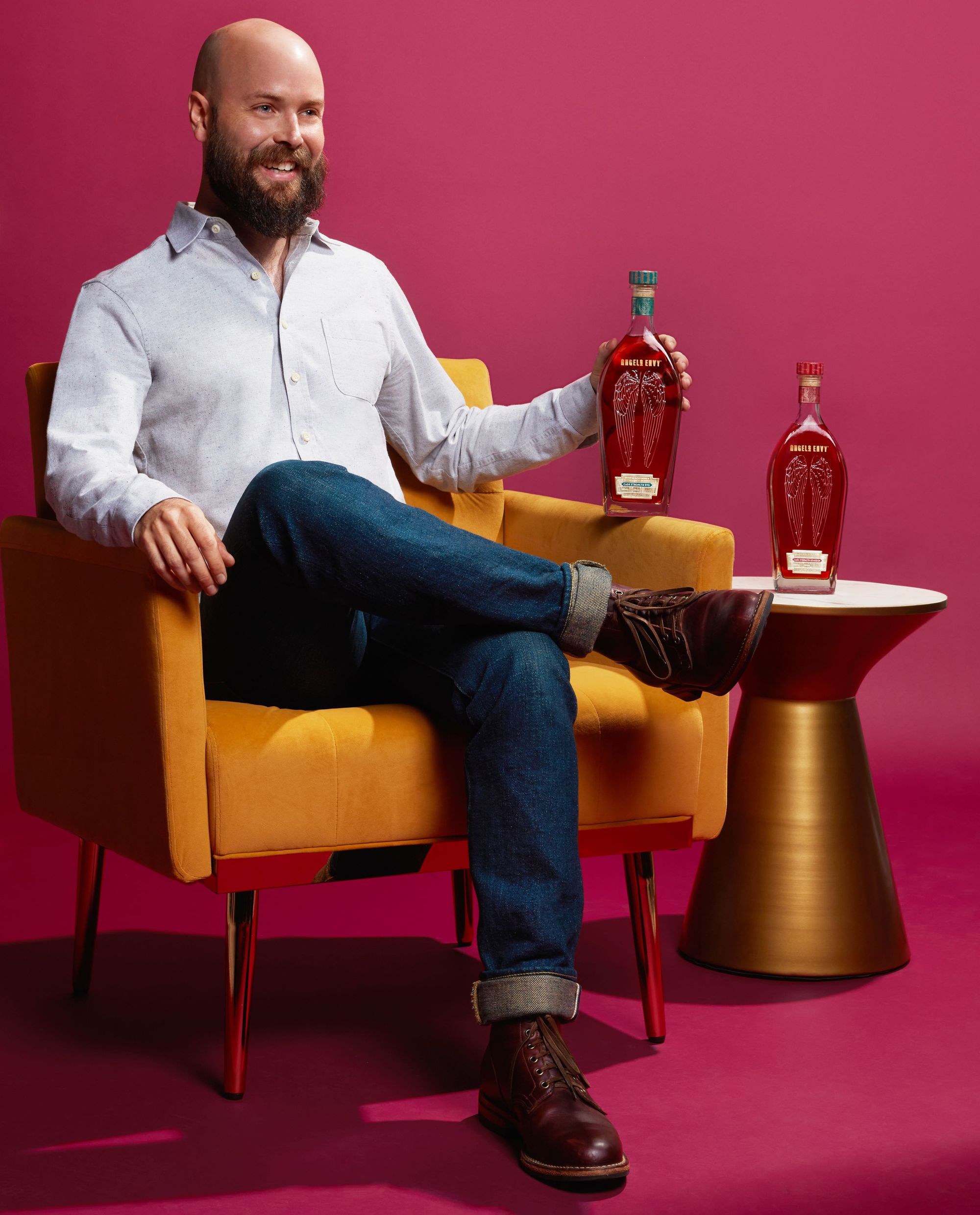 Finishing, he said, isn't merely moving whiskey from its original cask to another. Finishing could (should?) include multiple types of spirit and wine barrels used for a few years or many before engaging in the highly nuanced art of blending. Martin spoke of the barrels now in his possession as tools for creating extraordinary flavor combinations.
"I was fortunate in my past job (at Stranahan's) to learn a lot about blending," he said. "But now, working for Bacardi (parent company of Angel's Envy) I have access to so many different types of barrels to work with, and so many options and choices."
Let me make this clear: This is not an indictment of previous Angel's Envy procedures. This is to highlight what's happening now, and what you'll be glad about when you taste these whiskeys. So, let's get to those.
First, the rye. This isn't the polarizing Angel's Envy Rye aged in rum casks. Seems about half of those who drank it loved that dominant cloying maple syrup note that repelled the other half. (If you didn't infer it already, I was in the latter group.) This is a cask strength (114.4-proof/57.2% ABV) sourced rye born of MGP's legendary 95/5 mashbill—barrel-aged bona fides for every rye fan.
The nose is a fruit bomb of warm, dark cherries, dark-roasted pineapple backed by herbal notes of lemon verbena and mint—lots of it. On the palate comes Juicy Fruit Gum, toasted oak, rye bread, lots of baking spice and an Arnold Palmer garnished with fresh mint. Half of these barrels were aged in Sauternes barrels (which explains the subtle golden raisin note), while the other half laid low in toasted oak casks. Martin said the Sauternes casks also softened the potent oak notes carried born of the original casks.
Now, for the cask strength bourbon. (If you don't know, all Angel's Envy Bourbon is finished in port wine barrels.) Its annual cask releases were up and down for me: sometimes solidly influenced by port casks, other times barely so, and some years I really liked it, other years less so.
In another press tasting years ago, Wes Henderson said he'd revisited years of reference samples and determined its cask strength releases had skewed too heavily toward port influence, and that he was backing off "to preserve the bourbon character." That year's release was too lean on port for me.
But this year's is simply outstanding. The nose leads with grape candy, Concord jelly, purple iris bloom, confectioner's sugar, blooming roses and toasted raisin bread. Ever had a whiskey you could nose and nose and nose? This is one of those. The palate is even better: simultaneously silken and spicy, lush with rich fruit some tang of port wine but big and bourbon-y all the same. The finish is surprisingly soft and clean yet the palate practically hums in its absence. Again, simply outstanding.
Surprising to no one, big, flavorful, balanced whiskeys like these come with big prices in 2023. MSRP on the rye is $269.99 (5,500 bottles will be released); $229.99 for the bourbon (22,656 bottles will be released). And though this isn't a typical Bourbon & Banter review, I'll stick to our "Worth the Price?" format and say both are a bit high for my budget. However, for those with looser purse strings and who want to taste what I think are Angel's Envy's two best-ever whiskeys, jump on these. You'll thank me for the recommendation.
And just in case you're wondering about the Hendersons, they and some silent partners have purchased The Kentucky Castle, a property that is, literally, a castle built several decades ago by a husband as a present to his wife. A bit like the castle story from "Monty Python's Holy Grail," the castle burned down and was rebuilt—but only once and without ever sinking into a swamp. Investors turned it into an upscale hotel and event space, but it never really took off. Depending on who you believe, the Henderson group bought the property for $19 million or $21 million, and will turn it into their second distillery.