Old Forester 1910 Old Fine Whisky Review
Read the Brand's Notes to understand why this is a twice-barreled product. It'll help you understand why it's so fruity, sweet and tannic. Sipped at 93 proof, it's perfect. With a splash of water, the fruit notes become juicier, the mouthfeel pleasantly heavier and spice notes emerge. As the last ex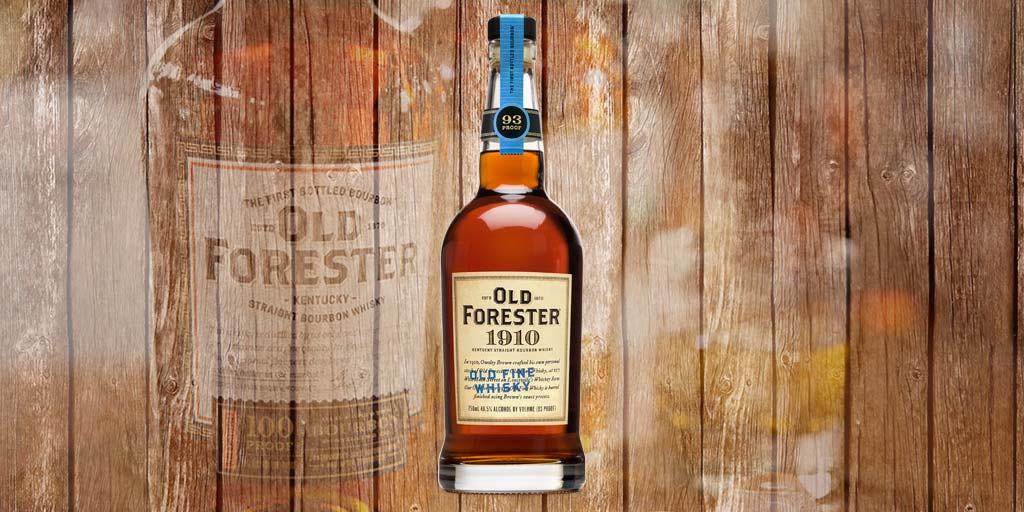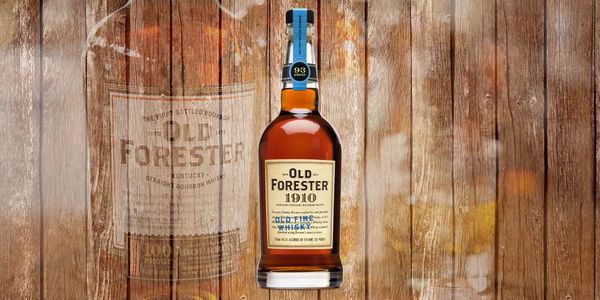 BOTTLES DETAILS
---
DISTILLER: Old Forester (Brown-Forman)
MASH BILL: 72% Corn | 18% Rye | 10% Malted Barley
AGE: NAS - No Age Statement
YEAR: 2018
PROOF: 93 (46.5% ABV)
MSRP: $54.99
BUY ONLINE: Drizly.com
STEVE'S NOTES
---
NOSE: Candy Corn | Warmed Caramel | Brown sugar, maple syrup emerges with water
TASTE: Caramelized brown sugar, graham cracker | Bright cedar and manageable tannin | Apples and raisins cooked with cinnamon
FINISH: Luxuriously sweet, long, pleasant warmth that's barely dry initially but delivers tannins later | Adding water benefits viscosity
SHARE WITH: Any brown spirits fan.
WORTH THE PRICE: Absolutely. This is a high-quality whiskey I predict will face demand that pressures prices upward. If you can get it at MSRP, get it.
BOTTLE, BAR OR BUST: Bottle all day long. This will be a whiskey I want to enjoy over a long period. Can't wait to try this in Manhattans and Old Fashioneds.
OVERALL: Read the Brand's Notes to understand why this is a twice-barreled product. It'll help you understand why it's so fruity, sweet and tannic. Sipped at 93 proof, it's perfect. With a splash of water, the fruit notes become juicier, the mouthfeel pleasantly heavier and spice notes emerge. As the last expression to be added to the Whiskey Row Series, there's hardly a better way to cap off a multiline series so well. 1910 Old Fine Whiskey makes me want to buy all its Whiskey Row Series siblings (1870 Original Batch, 1897 Bottled In Bond and 1920 Prohibition Style) all over again for a vertical comparison. (And of course, I'll include the Old Forester 100 proof, too, since it's the backbone for all these and arguably the best dollar-for-dollar bourbon on the market.)
Here are a few related Old Forester reviews you might be interested in:
POPS' NOTES
---
NOSE: Golden Fruit  |  Butterscotch  |  Cedar
TASTE: Raisins  |  Baking Spices  |  Buttery
FINISH: Well balanced medium-length finish that goes from sweet to spicy without being overly tannic or dry.
SHARE WITH: This one drinks light and is more nuanced so while any whiskey drinker will enjoy it, it's probably best appreciate by those that have developed their palates beyond the basics.
WORTH THE PRICE: Based on the pricing of other expressions in the Whiskey Row Series this seems just about right.
BOTTLE, BAR OR BUST: For most folks a bottle is the way to go. If you prefer heavier bourbon (higher proof) you may want to mooch some off your friends or at a bar before investing in a full bottle.
OVERALL: My favorite in the Whiskey Row Series is the 1920 Prohibition Style thanks to its higher proof and robust flavor profile. As such, I wasn't sure if this double-barreled lower proof expression would be something I'd enjoy sipping on. To be more specific, I was concerned if the normal banana-forward profile of Old Forester would mutate into something funky and lead to an unbalanced mess. While it's undoubtedly lighter drinking than I prefer, it has great balance and the double-barrel finish has removed the banana notes such that the rest of the flavors can come together to create something unique and worth exploring. I'd have no issue drinking more of this when offered but I'll hold off for heavier fare when it comes to investing my own money.
BRAND NOTES
---
TWO BARRELS. ONE FINE BOURBON.
1910 Old Fine Whisky, Old Forester's fourth and final expression in the Whiskey Row Series, is a double barreled Bourbon creating a smooth mingling of sweet oatmeal raisin cookie and milk chocolate, caramel corn, and evolving spice that lead into a refined, charred oak finish.

TASTING NOTES
NOSE
Interlaced layers of buttercream, sticky toffee, cedar, and apricot
TASTE
Smooth, well rounded mingling of sweet oatmeal raisin cookie and milk chocolate leading into caramel corn and evolving spice
FINISH
Charred oak leads with a clean peripheral spice
---
OLD FORESTER INTRODUCES 1910 OLD FINE WHISKY
Double-barreled expression represents fourth and final release in Whiskey Row series
Louisville, Ky. (October 11, 2018) -- Old Forester, America's First Bottled Bourbon, will release the fourth and final expression in the Whiskey Row Series this month: the double barreled, 1910 Old Fine Whisky.
Like others in the series, 1910 Old Fine Whisky represents a specific point in Old Forester's nearly 150-year-old history. In October 1910, a fire caused the bottling line to be shut down for an indefinite period of time. Complicating matters, there was a vat of mature whisky waiting to be bottled. Otherwise facing ruin, this whisky was instead stored in new, charred oak containers to rest until the line could be repaired. The resulting product, the first documented double-barreled whisky, was both different from Old Forester and remarkable enough to become an entirely new expression - Very Old Fine Whiskey.
"There are often pieces of our brand's history that we happen upon by accident. Years ago, while searching through archives, we discovered a case of bourbon with a label I hadn't seen before. We uncovered that Very Old Fine Whisky not only carried a great story, but a previously unknown heritage of double-barreled expressions," said Chris Morris, Master Distiller, VP Whiskey Innovation, Brown-Forman.
Today, mimicking this historic bottling, this unique expression of Old Forester has undergone a second barreling in a lightly toasted, heavily charred barrel. Old Forester 1910 Old Fine Whisky is presented at 93 proof and will hit shelves nationally this October with a suggested retail price of $54.99 for a 750 ml.
"Mature Old Forester enters a second barrel at 100 proof, just as it did in 1910," said Old Forester Master Taster Jackie Zykan. "The second barrel is charred nearly to the point of incineration. This low entry proof allows more of the wood's sugars to be dissolved into the whiskey, resulting in a smooth, sweet whisky with a clean, spicy finish – yielding an exceptional character."
First launched in 2014, the Whiskey Row series tells the story of Old Forester's one-of-a-kind history, highlighting significant milestones and production innovations along the way. The series includes 1870 Original Batch, a small batch bourbon pulling from three distinct warehouses, meant to reference founder George Garvin Brown's original batching process; 1897 Bottled in Bond, a small batch of barrels from one distilling season, in the same year, aged in a federally bonded warehouse for a minimum of four years; and 1920 Prohibition Style, which represents a barrel strength of the prohibition era when Old Forester was granted one of just ten permits nationally to continue being sold as a medicinal whiskey.
"Old Forester has endured nearly 150 years of uninterrupted history and has survived prohibition, world wars and changing consumer tastes," said Old Forester President Campbell Brown. "The Whiskey Row series is a great way for consumers to taste through Old Forester's unique 148-year history."
Sharing some of the stories that have kept this brand alive through five generations.
Visitors can learn more about Old Forester's history at the newly opened Old Forester Distilling Co. Located in the building that Old Forester called home from 1882-1919, visitors follow the Bourbon making process in an immersive experience that leads them from fermentation and distillation, to the on-site cooperage where handcrafted barrels are raised and fired, then aged in an on-site maturation warehouse before bottling and shipment across the globe. Tours and tasting information can be found at OldForester.com.
Tasting Notes from the Master Distiller and Master Taster:
Aroma:
Interlaced layers of buttercream, sticky toffee, cedar, and apricot
Taste:
Smooth, well-rounded mingling of sweet oatmeal raisin cookie and milk chocolate, leading into caramel corn and evolving spice
Finish:
Charred oak leads with a clean peripheral spice
---
Disclaimer: Old Forester provided Bourbon & Banter with a sample of their product for this review. We appreciate their willingness to allow us to review their products with no strings attached. Thank you.