A User's Guide to the Evan Williams Bourbon Experience
Anyone who has traveled the Kentucky Bourbon Trail knows that most of the distilleries on the Trail are located far outside of city centers like Lexington and Louisville.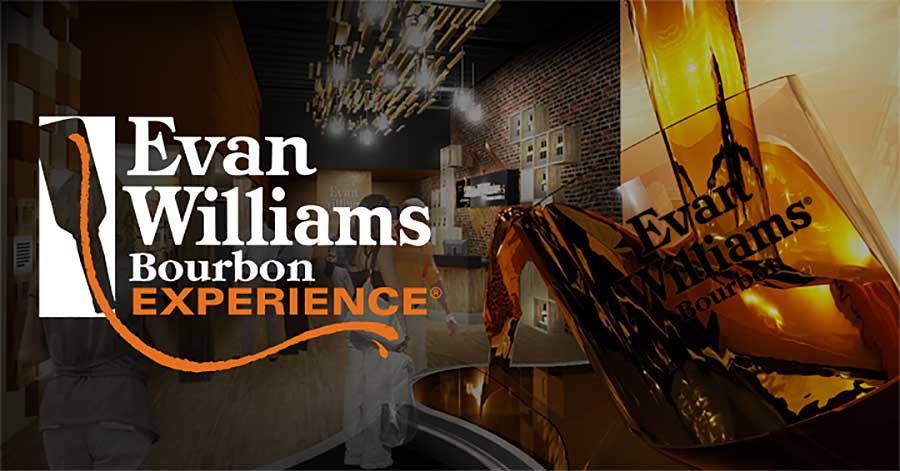 Anyone who has traveled the Kentucky Bourbon Trail knows that most of the distilleries on the Trail are located far outside of city centers like Lexington and Louisville. This is only natural, of course—a more remote location guarantees better connections to the grains, pure water, and acreage necessary for a distillery. So what's a girl to do when she has a couple of spare hours in Louisville and has a hankering for bourbon? After a stop by Art Eatables for fantastic bourbon truffles (a must in Louisville) I popped on over to the Evan Williams experience on Museum Row in Louisville for my bourbon fix one afternoon.
Let's start with a disclaimer: all Evan Williams bourbon is not produced at the Evan Williams Experience, but instead produced at a distillery a few miles down the road which is not open to tours. The EWE has a small craft distillery that produces about a barrel a day, Tuesday through Saturday, and apparently makes fantastic juice—just ask Ginny Tonic, who has had the enviable chance to taste their 1-year-old and new make. Evan Williams is by no means my favorite brand, but I had heard good things about the museum so I wanted to check it out.
At the beginning of the tour, the guide takes second place to the visage of Evan Williams, who leads guests through the world of eighteenth-century distilling. I've done a lot of research on that period of distilling, so I'm going to hold my tongue. A number of the facts presented during this portion of the tour are incorrect or out of proportion in order to present the Disney version of bourbon distilling. The truth of the matter is that Heaven Hill does not know a lot about many of the distillers they adopted for their labels, including Evan Williams and Elijah Craig. For that reason, a portion of this tour is made up of hypotheses and conjectures from Heaven Hill. The best way around this issue is to find a fantastic tour guide (I had the honor of having Wander Louisville editor Owen Graham as my guide) who has done independent research on early bourbon history and has a bit of extra time at the end of the tour to delve into the nuances of early distilling with you.
The second portion of the tour took guests through the modern distilling process. I have to say that this was one of the best introductions to bourbon that I've seen. Naturally, most of what I learned was old hat to me (You can only hear 51% corn, sour mash, and column still so many times), but this is the most excellent overview of bourbon for a first-time drinker. And, of course, then you get to see their fantastic micro-distillery right in the heart of the Experience. Of course, it wasn't running when I went on tour (cue sad trombone). This distillery largely experimental, having made everything from rye whiskey to wheat whiskey to bourbon, of the high and low and no rye varieties, and everything in between. I personally cannot wait to try their distillate. Although I cannot say that I am the biggest fan on Evan Williams brand products, their craft facility is so fantastic that I will be getting my hands on a bottle as soon as I can! Guests are then guided through a mock-rick house in order to get to the next tour area, getting the chance to sniff a used barrel and observe the red line, etc., etc.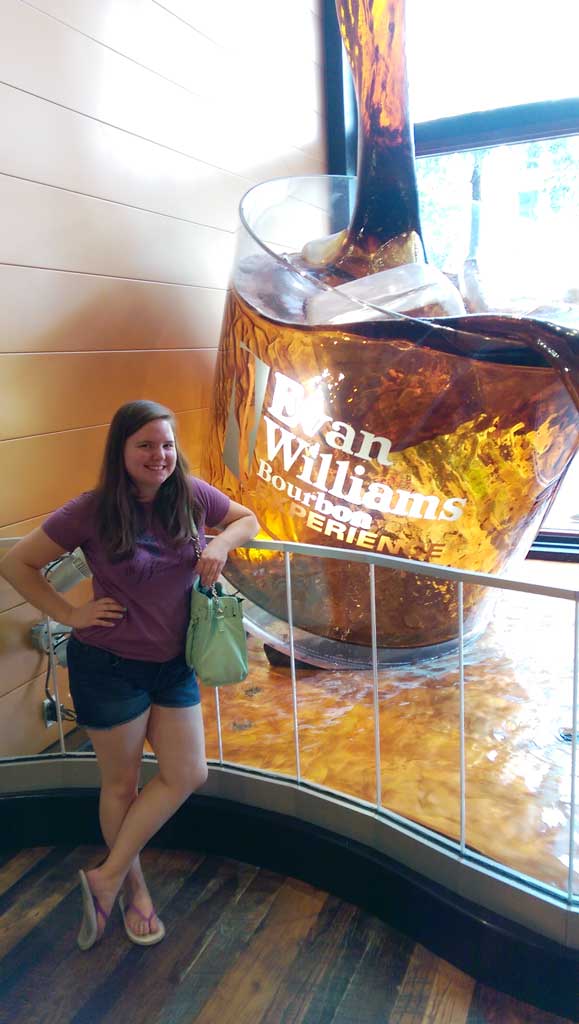 The last part of the tour is the most unique, bridging the gap between distillery tour and museum, and my personal favorite. We got to step foot on (reconstructed) Whiskey Row from downtown Louisville to learn about the history of whiskey after Evan Williams went to distiller heaven. Owen covered topics such as whiskey rectifiers, the Bottled-In-Bond act, prohibition, medicinal alcohol, and the business of alcohol. I appreciated this not only because it offered a very interesting portion of history in a unique setting, but also because this crucial period of distilling history is often overlooked on most major distillery tours. Better yet—it had nothing to do with Evan Williams. For a first-time distillery visitor, this part is the best because it emphasizes the scope of whiskey's history in our country, going far beyond a leisure activity and well into an important economic and political piece of the nineteenth- and twentieth-century worlds.
And then, the obligatory tasting ensues. Again, this is a good introduction for visitors to the world of bourbon. I tasted Evan Williams black label, Evan Williams single barrel, and Elijah Craig 12 year (plus a bourbon ball – yum!). Although I cannot say I was blown away by any one of the offerings (except the bourbon ball!), the range of options for tasting served as a very good introduction to bourbon for newcomers. Both Evan Williams varieties were relatively low in proof, with the Elijah Craig clocking in around medium proof level. The single barrel we tasted was especially disappointing, unfortunately, since it tasted overwhelmingly of iodine. I looked forward to it so much! I hope in the future I'll be able to taste a better single barrel offering from EW, because I really, really want to like it.
Even though I just listed a number of disappointments I experienced throughout the tour and tasting, I have to say that I absolutely recommend this tour! It is a great way to spend a couple hours in downtown Louisville and is a fantastic introduction to the world of bourbon. If you have the chance to go Tuesday through Saturday to see the micro-distillery in action, and can snag an awesome tour guide like Owen, you can't miss this Experience. Bring your spouse, bring your cousins, bring your grandma and go learn about bourbon. If anything, just go for the gift shop—they have Evan Williams 23 year sitting on the shelf. What are you waiting for? Go and get educated!