Luxco Release Party Celebrates 3 New Whiskeys
Photo L to R: Steve Beam (Limestone Branch Distillery), John Rempe (Luxco – Blood Oath Bourbon), Patrick Garrett (Bourbon & Banter) and Ciaran Mulgrew (Quiet Man Irish Whiskey) One might think that whiskey launch parties are a typical occurrence for someone who runs a bourbon blog.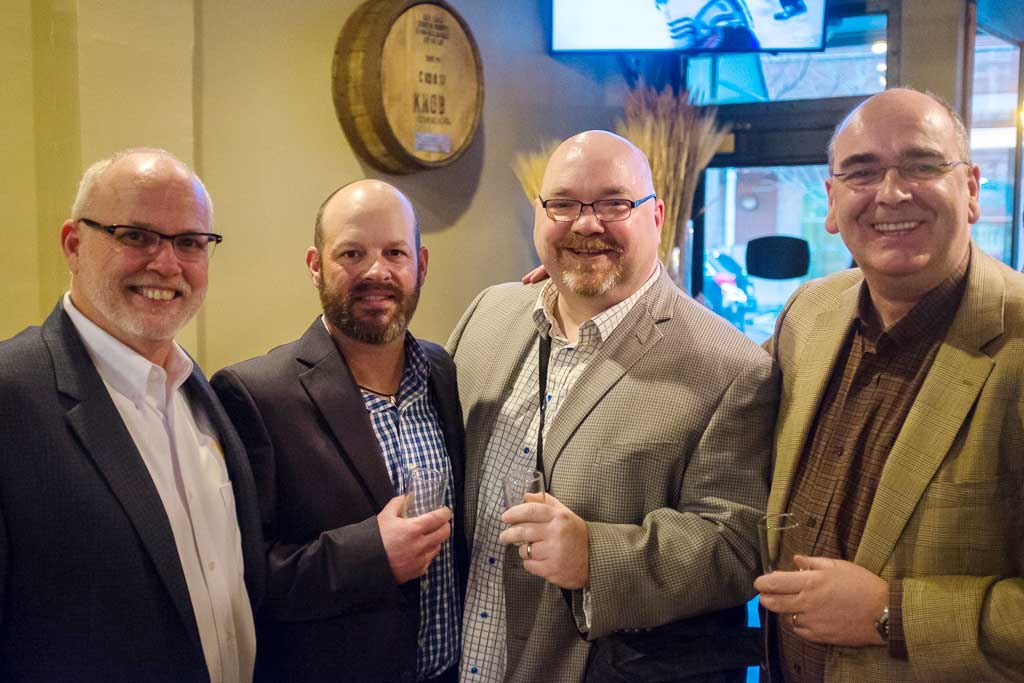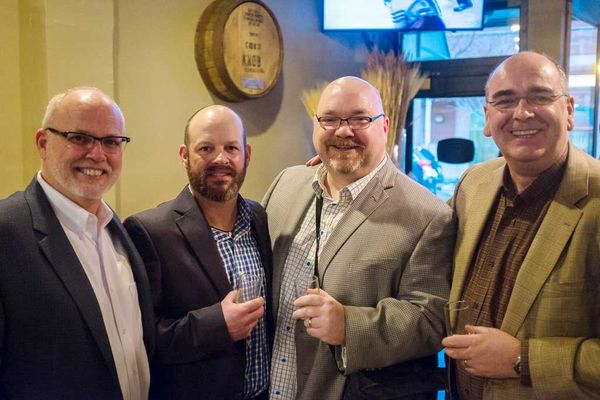 One might think that whiskey launch parties are a typical occurrence for someone who runs a bourbon blog. The truth is that being based in St. Louis means that there almost no launch parties – ever. I have to read about such events from my friends and colleagues who live in places like Kentucky where either the distillery exists or New York City where it's, you know, New York City. So it's a bit exciting when a launch party does happen in St. Louis like last year's launch of Blood Oath Bourbon hosted by Luxco.
Last week I had another rare opportunity to attend a lunch party in town. Luxco once again hosted it but instead of promoting only one whiskey at the event; they supported three – Blood Oath Pact 2, Yellowstone Select and Quiet Man Irish whiskey.
The Gamlin Whiskey House's Barrel Room was our venue for the evening's festivities and it was decked out in full support of all three featured brands including food and spirit pairings that were in a word – amazing! I may or may not have smuggled out a few pounds of BBQ bacon-wrapped jumbo prawns.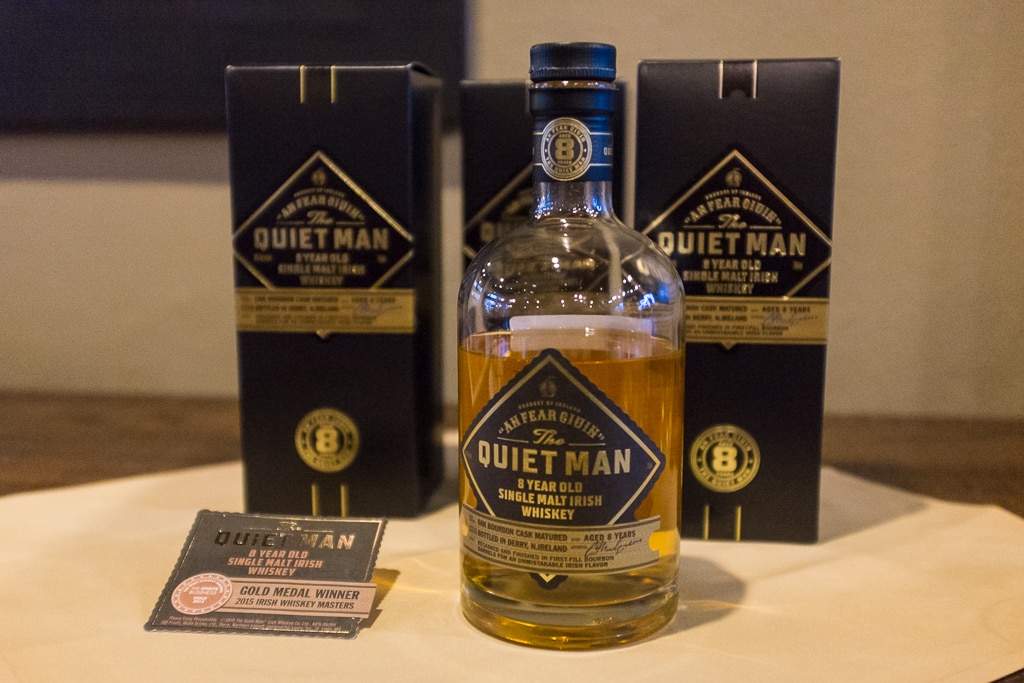 We've written about Quiet Man on the blog previously, and I stand behind my recommendation to try it out. I was fortunate enough to spend some time at the event with Ciaran Mulgrew, Managing Director of Niche Drinks Co. Ltd, the brand's owner. Despite a travel schedule that would fatigue the most road-tested business traveler, Ciaran was in high spirits and genuinely giddy about Quiet Man's release in the US this year.
He also shared that their optimistic that they'll receive final planning approval before June on their new distillery allowing them to start building in October. Located in Derry in Northern Ireland, on the site of an old naval base, and it will consist of a malt distillery with an initial 500,000 KPA capacity. If I remember correctly, the distillery will be surrounded by a maritime museum and retail shops making it an ideal tourist destination. And there's a rumor that several WWII German submarines lie in the waters surrounding the naval base after being sunk following the end of the war.
Construction should be completed sometime in 2018. That gives us all ample time to plan a trip to Derry in a few years to check out their operation and sample some of their whiskey as it lies asleep in the barrel. I look forward to keeping an eye on their progress and wish them the best of luck.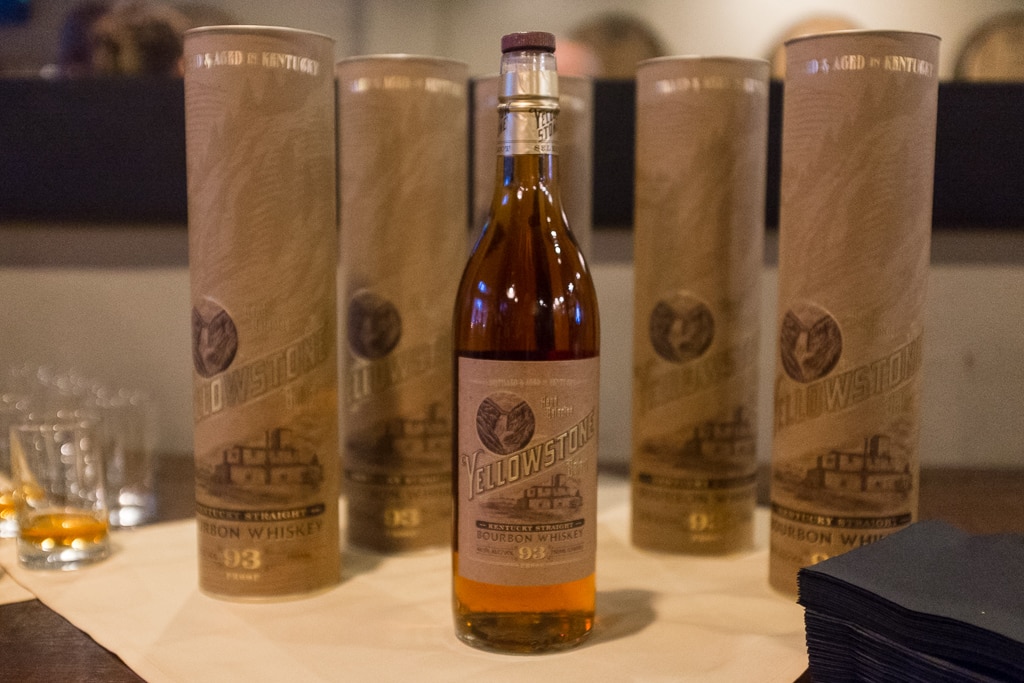 Also, in attendance was Steve Beam from Limestone Branch Distillery. Luxco made an investment in his distillery early last year and since then they've put out two releases under the Yellowstone brand – their initial Limited Release and the more recent Yellowstone Select. The latter was featured at the event.
While I didn't get to spend as much time with Steve as I did with Ciaran, it's clear that Steve is having a lot of fun with Limestone Branch and enjoying their partnership with Luxco. He didn't give specifics but did share that they were running quite a few distilling experiments currently and were looking forward to seeing what develops from them. I think an in-person trip to Limestone Branch is in order so I can dig a bit deeper into what they've got going on.
As for Yellowstone Select, I didn't take detailed tasting notes but I prefer it over the Limited Edition. If Yellowstone fits your palate, you'll be excited to hear that Steve's plan is to roll out a different Yellowstone release every year, much like Luxco is doing with their Blood Oath series. So for now, sit back and enjoy the bottles you have since it will be close to another year before they roll out something new.
The remaining whiskey of the evening was Blood Oath Pact 2. Last year Luxco released Blood Oath Pact 1 which I enjoyed but felt was a bit over-priced. In my opinion, this year's release is even better and more in line with my personal tastes. (I'll be doing a formal review as soon as samples are made available.) I couldn't help but give John Rempe, creator of Blood Oath, some grief over the price again this year but if I'm being honest, it's not his call. Let's just blame it on the marketing and sales folks and move on.
Before the evening wrapped the crowd was given an opportunity to ask questions to Ciaran, Steve and John. While most of the questions were standard to such an event, I did ask them what role their brands should be playing as NDPs (non-distiller producers) in driving innovation in the American whiskey market. Unfortunately, they misunderstood my question or, at least, the intent of my question, resulting in nothing of significance to report. However, I was able to follow up with Luxco's PR folks and I hope to do a follow-up piece on the role of NDPs when it comes to industry innovation.
The overall event was well done and I want to congratulate Luxco for continuing to bring new products to market and for keeping St. Louis on the whiskey map. Special thanks to Ciaran, Steve and John for their enthusiasm and for taking the time to banter with me throughout the evening.