Welcome to Bourbon Heritage Month 2023
Welcome to the most badass month of the year–Bourbon Heritage Month. Are you ready to take on the 30 Days of Bourbon Challenge and win some fabulous bourbon-themed prizes?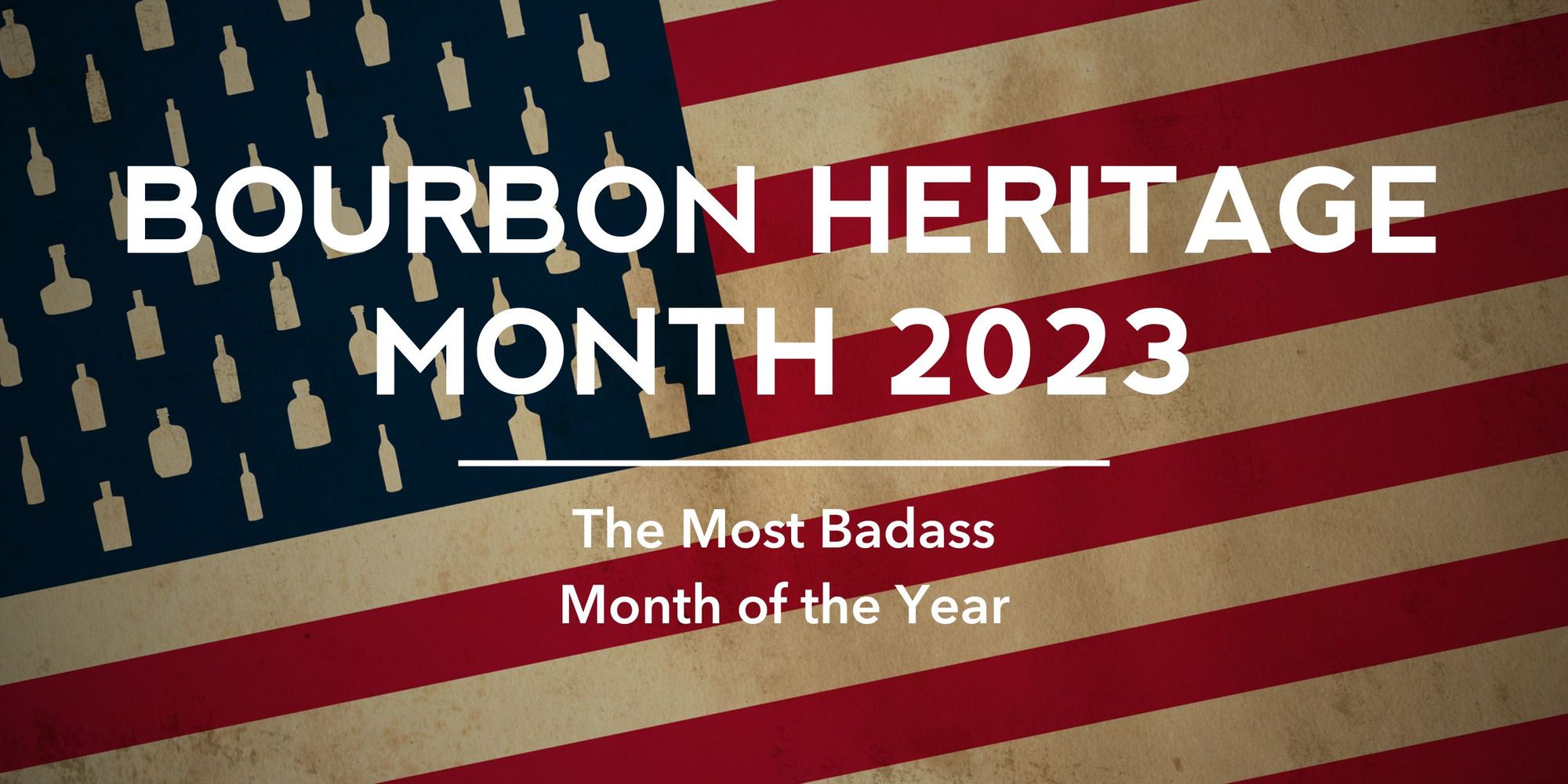 Whether this is your first year celebrating Bourbon Heritage Month or you're a seasoned pro, we're honored to have you drinking with us for the next 30 days. Pour yourself a drink and scroll down to explore what we've got in store for this year's celebration – our 10th-anniversary celebration, to be exact – and how you can be a part of it all.
Once you've entered our giveaway, downloaded your #30DaysOfBourbon calendar, and stocked up on some bourbon gear, we ask that you share this page with all your friends and invite them to join the fun. After all, just like drinking bourbon, winning fabulous prizes is better with friends.
All of us at Bourbon & Banter appreciate you for joining us, and we look forward to spreading the bourbon gospel with you all month long. Cheers!
WIN BOURBON SWAG & MORE
Here's your chance to spruce up your bourbon wardrobe and home bar without spending a dime. As we've done for the past ten years, we're once again hosting a Bourbon Swag Giveaway, thanks to the generous support of our friends at some of your favorite brands and distilleries. Each week, we'll pick a bourbon swag pack winner (5 in total), and at the end of the month, we'll pick a Mega-Pack winner who will receive the ultimate collection of bourbon gear.
This year, we've added even more options that will allow you to earn unlimited additional giveaway entries for following us online and sharing the giveaway with your friends. After racking up your entries, you can sit back, pour yourself a drink, and dream about winning.
WHAT IS BOURBON HERITAGE MONTH?

National Bourbon Heritage Month is an observance in the United States that calls for celebration of bourbon as America's "Native Spirit". On August 2, 2007, the US Senate declared September as "National Bourbon Heritage Month." The bill, sponsored by Republican Senator Jim Bunning of Kentucky, passed by unanimous consent. The resolution calls for consumers who enjoy bourbon to do so responsibly and in moderation. The bill reinforces the 1964 Act of Congress that declared bourbon "America's Native Spirit" by celebrating the family heritage, tradition and deep-rooted legacy that the bourbon industry contributes to the United States. (source: Wikipedia)
THE 30 DAYS OF
BOURBON CHALLENGE
Join your fellow bourbon lovers starting 9/1/23 as they take on the challenge of enjoying 30 different through September.
Let's break down the ground rules in the simplest way: BOURBON ONLY. We're keeping this exclusive, so no room for Rye, Scotch, Irish, Indian, Taiwanese, Canadian, Japanese, Australian, or Mexican whiskies. And don't even think about sneaking in those flavored concoctions that don't meet the TTB standards for bourbon (yes, Red Stag, we're looking at you).
Remember, your 30-day conquest is all about bourbon – nothing else cuts it. Anything other than pure bourbon doesn't add up towards your goal.
Hold on tight, here's a handy set of guidelines to ensure your daily pick counts towards conquering the 30 Days of Bourbon Challenge:
Proof Parley: For instance, Wild Turkey 81 and Wild Turkey 101? We're treating those as one in the Challenge. But when it comes to different expressions from the same brand, like a Bottled-in-Bond versus a non-bonded variant, those count separately.
Mash-Up Mastery: Take Four Roses, for example, with its ten unique recipes. Each stands as an individual bourbon. Their Small Batch and Small Batch Select, both blends of these recipes, are also fair game. Plus, don't forget about Four Roses' limited editions – they're in too, thanks to their distinct blend ratios.
Sourced Stories: With so many brands sourcing from bigger distilleries, it's a bit of a maze. To simplify, sourced bourbons – even if from the same distillery – are good to go as long as they play by the other challenge rules.
Single Barrel Shuffle: Ah, single barrels. This year, we're shifting gears. Different barrels of the same brand expression don't tally toward your 30-day feat anymore. While they may have differences in color, aroma, and flavor, they're all part of the same expression. So, no more counting each unique horse stopper on Blanton's, and drinking 30 distinct single barrel numbers won't seal the deal anymore.
Cocktails Count: Prefer to drink your bourbon in a cocktail? No worries. When it comes to crafting cocktails, feel free to shake things up, as long as you're using a fresh Bourbon for each.
Click below to read the Ultimate Guide to the 30 Days of Bourbon Challenge, and download your tracking calendar and Bourbon Heritage Month graphic overlays to use on social media.
Private Barrel Picks
We held back a small quantity of our most recent private barrel picks to celebrate Bourbon Heritage Month. Here's your chance to enjoy some truly unique cask-strength private picks normally reserved for our Bourbon & Banter community members. As a bonus take advantage of $20 flat rate shipping on up to 12 bottles from our retail partner, Ace Spirits.
Buy Now
2023 BOURBON HERITAGE MONTH SPONSORS
Special thanks to our friends at the following brands for being partners and supporting our efforts to celebrate Bourbon Heritage Month this year. We truly appreciate their partnership in supporting our mission of helping others to #DrinkCurious.